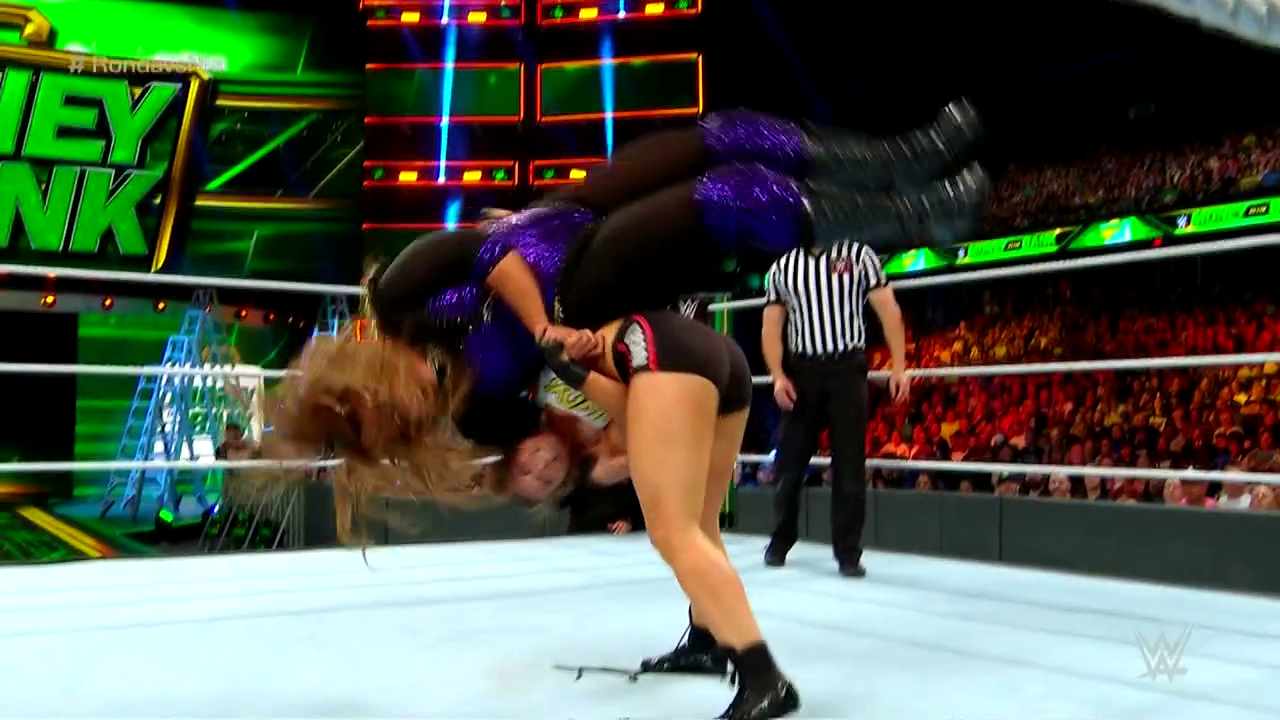 Ronda Rousey defeats Nia Jax by DQ after interference from Alexa Bliss , who cashes in her Money in the Bank contract to defeat Nia Jax and win

Raw Women's Championship
The Hope: That Ronda is able to perform at least 90% as well as she did at WrestleMania, in a match that allows us to gauge her wrestling acumen within the context of a singles match against an extremely but specifically talented and somewhat limited-in-range — meaning not that she's slow or unathletic, but that she's not a Seth Rollins or Charlotte-esque performer who can do literally anything you ask her to — champion.

The Reality: A Rousey victory at the end of a (perhaps disappointingly) short match given those aforementioned limitations and a surprise title change involving an almost egregious amount of shenanigans after the match.
This was pretty unequivocally my match of the night. Even if I was never a fan (for many reasons) of Ronda in UFC, she's been nothing short of spectacular since joining WWE and I'm totally here for pretty much anything they want to do with her going forward.
As an avid Kurt Angle fan, it's almost impossible to watch Ronda in the ring and not think she's channeling his spirit directly. There's a fluidity and preciseness of body movement as well as, weirdly, in-ring acting ability that put Ronda on a completely different plane than almost anyone she's going to find herself in the ring with. It's one of the main reasons she works so well with Nia, who is literally (billed as) more than twice her size.
It's unclear why anyone would think, given this, that the goal of this match was to make Ronda look like a conquering badass, as opposed to a tough-as-nails competitor who is woefully outmatched physically and is forced to rely on the kind of things — strategy, skill and stamina — that helped her become one of the most successful MMA fighters of all time. I think it's fair to say that for all of the mild-to-massive disappointment in this show, performers like Elias, Nakamura and Ronda were showcased in ways that make them major players going forward.
This includes Nia, who — in what was a recurring theme for the night, despite what was an overall fairly disappointing show — had perhaps the best match of her career. That this match ended with Nia presumably showing respect for Ronda (at least on Twitter) leaves me with hope that she is able to A) get her frigging title back ASAP and B) go back to being a tweener who is willing to fuck up somebody's business, but won't turn into the kind of bully some saw her as immediately after challenging Ronda.
While it may be unlikely (given what one assumes would be Ronda's relatively light work schedule, at least on TV for the time being) this is not just a match I would (and have!) watched several times, but one I'd actively pay money to see again. I wouldn't quite call this a match of the year candidate — especially considering there's basically half the year and it's Ronda's first singles match — but it portends incredible work for both the performers involved while also being itself fairly incredible work.
That, coupled with Alexa's cash-in to spring three feuds out of this — Nia v. Alexa, Ronda v. Alex and the continuation of Nia v. Rousey — was definitely worth the price of the PPV alone, so good on everyone involved.  Keep up the good work, we're all so proud of you.
Match  +1.4 (+1 for the match, +.2 for MOTN and +.2 for the MITB Cash-in) | PPV +2.465