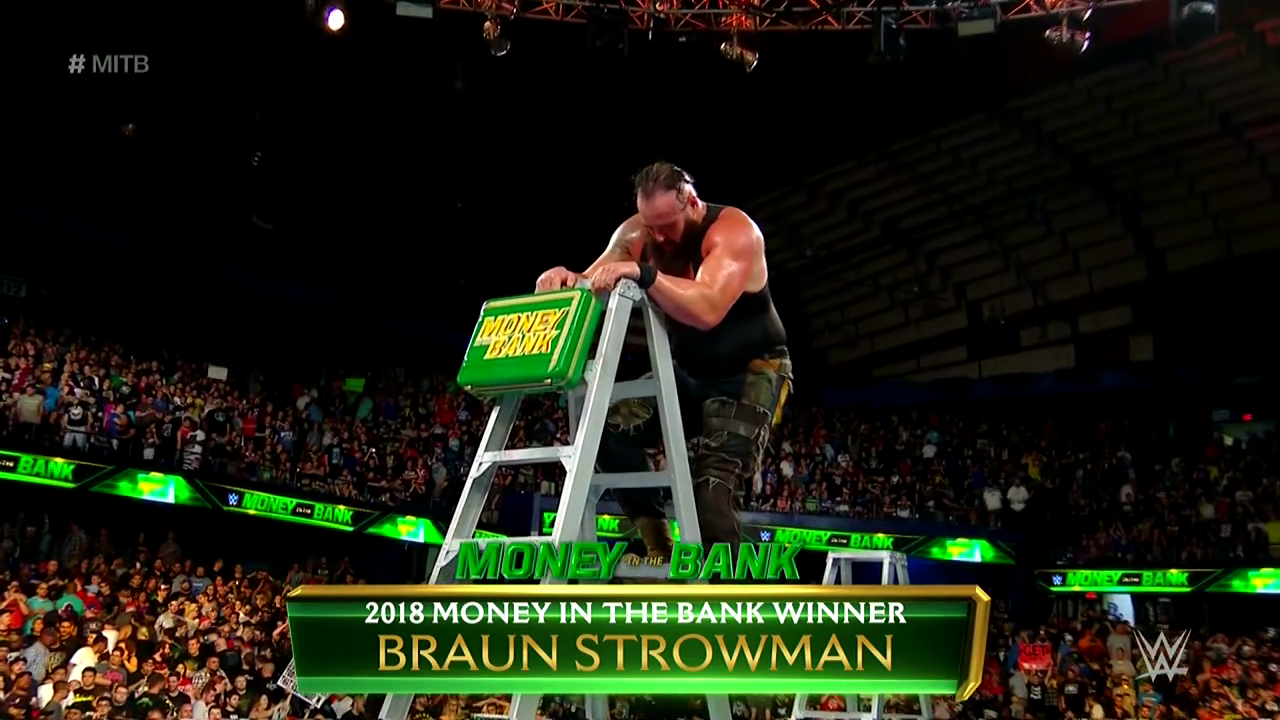 Braun Strowman

obtains the

Money in the Bank 

contract
The Reality: This is perhaps the first time in Money in the Bank history where literally every single performer (yes, even Bobby Roode) is worthy of a shot with the briefcase. Sure some — See: Joe, Samoa — are (much) more worthy than others, but any outcome could conceivably turn into the Mr. Money in the Bank gimmick at its best: a platform to elevate a performer to the top of the card without sacrificing anyone else to get there. That says, our heart belongs to The Miz.
I could write roughly 8000 words as to why Braun Strowman was probably the worst possible choice in this match to grab the briefcase, but honestly, how could I treat this match as anything less than hair-on-fire fucking awesome with a visual like this:
Uh-oh.

➡️ https://t.co/ePt5TzD6sU pic.twitter.com/fOJx9asD5M

— TDE Wrestling (@totaldivaseps) June 18, 2018
While everyone is endowed by their creator to believe in whatever they think makes good professional wrestling, you'd hardpressed to find anyone (wrestling fan or not) who wouldn't think that shit is totally fucking awesome. Our hearts may belong to The Miz but the world belongs to Braun. Beyond being a generational talent in the ring, Braun's ability to tell a story — or have a story told about him and accept the responsibility of hitting all his marks to keep everything going apace — is what sets him apart as one of the truly significant sports entertainers over the last 20 years.
That this is just the beginning for him is mind-expanding, opening up infinite possibilities that all seem to emanate for what's essentially a magical storyline builder. Any significant changes going forward will need to, essentially by WWE bylaw, run through him until he either wins the title or loses the MITB briefcase along with the rest of his luggage.
Braun, of course, was not the only person physically in the match, but it was him and what he represents that gave nearly everyone a chance to shine. Among the moments that shone the brightest were Miz's work highlighted above, Joe's brilliant tope suicido into him and Kofi's spot on top of him while atop the ladder, but the true MVP (non-Braun division) of the match was clearly Kevin Owens. Owens spent the entire show before the match trying to get everyone to work to defeat Braun, which largely succeed until Strowman caught up to him at the top of a comically high ladder.
KEVIN!! ?

➡️ https://t.co/ePt5TzD6sU pic.twitter.com/IYeAkoD0R9

— TDE Wrestling (@totaldivaseps) June 18, 2018
Which, no matter how you cut it, was some restaurant-quality lemonade. As was the rest of this match, even if the ending feels as straightforward a path towards a SummerSlam title match between Braun and Brock as possible.
Match: .8 | PPV +3.265
Overview
This included some of the best performances by a number of performers, but was marred by a truly putrid match to end a putrid feud, as well as a putrid ending to what had been a very good, if not anywhere near great match. As such, the match average is essentially the lowest ever recorded for a WWE PPV since we began doing this.
Though, while Asuka-Carmella's ending left a LOT to be desired, this is mostly a function of how totally and irredeemably shitty the Lashley/Zayn match was. The two MITB ladder matches are definitely worth taking your time to seek out, with Seth Rollins vs. Elias and Nakamura vs. AJ being must watches for anyone who is even kind of a fan of *any* of the competitors or titles involved. At four hours and fifteen, it's probably a little much to go back and watch in full, but that's the brave new world we live in and we'll likely just to have to get used to it.
The MATCH OF THE NIGHT was, for me, Nia Jax vs. Ronda Rousey. The ending was exceedingly (half) predictable, but everything leading up to it was the kind of surprise you become a wrestling fan to feel. Telling that story with Ronda and Nia was a brilliant move, one which sets them both up — along with the usurping Alexa — to feud at least through Survivor Series.
Match Avg.: .36278, .363 if you're nasty.