The Royal Rumble Match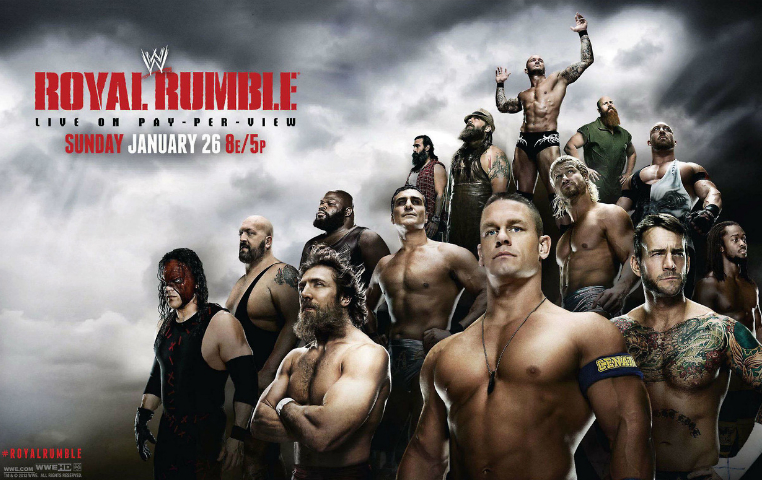 Batista, Albert del Rio, Big E. Langston, The Miz, R-Truth, Xavier Woods, Kofi Kingston, Cody Rhodes, Goldust, Rey Mysterio, Fandango, CM Punk, Dean Ambrose, Seth Rollins, Roman Reigns, Luke Harper, Erick Rowan, Damien Sandow, Jimmy Uso, Jey Uso, Ryback, Jack Swagger, Antonio Cesaro, Titus O'Neil, Darren Young and five more "surprise" entrants
Best Case Scenario: A compelling narrative, lead by some sort  of transcendent performance(s) by CM Punk, Roman Reigns, Big E. Langston, Albert del Rio and/or Antonio Cesaro that also allows for the likely winner (Batista) to shine in the match without having it (unintentionally) look the match fell into his lap.
Worst Case Scenario: An orgy.
What Nick Wants to Happen: Roman Reigns to Level Up, CM Punk took give us our money's worth and Batista to be less winded from walking down the aisle than he was Monday Night.
What Will Happen: An awesome clusterkerfuffle of a match, with twist, turns and any number of double crosses. It's always the best match of the year, and take it from an quasi-expert — or at least someone who has watched all of the Royal Rumbles PPVs in a row — this  has the potential to be one of the best Royal Rumble Matches of all time. While it may seem like only one or two people have a chance (Punk and Batista), any attempt to predict what will happen in a Royal Rumble is futile unless Hulk Hogan is involved and Ric Flair isn't. There's no guaranteeing what will happen, or why it happens, but just enjoy the ride and you should be fine. Though, if I were a betting man, I'd go with our Wrestler of the Week, Batista.