Tonight, I'm watching Raw.  Not because I'm all that interested in this goofy non-Authority authority angle, but because I feel like I need to make sure I'm all caught up before TLC.  At least the show started with Seth Green and Mizdow.  Strike while the iron's hot, Damien.
But while I'm rather cool on tonight's show, I was pretty excited for wrestling this past weekend.  It started with the Chikara season finale, Tomorrow Never Dies, and ended with Ring of Honor's season finale, Final Battle.  You can't ask for much more in a weekend of indy wrestling on pay-per-view.  I know I definitely got my money's worth, even though I spent a bit more than $9.99.
Oh, speaking of which—I FINALLY got the Network.  Now Nick is going to have to find something else to break my balls over when we record a podcast.
Anyway, we have a lot to cover here… so let's get to it, shall we?
Pre-show Match
Young Lion's Cup
Heidi Lovelace vs. Missile Assault Ant
So…I missed this match.  I admittedly made a last-minute decision to order this show, and by the time my PayPal payment processed, and I got the link to watch the show, the main show had already begun and the first match was in progress.
Anyway, I was kind of surprised that Heidi won, considering she's really only been on the periphery of the Chikaraverse, while Missile!Assault!Ant! has been a bit more involved over the last season or two.  That said, the most vocal member of the Colony: Xtreme Force doesn't really need the trophy. Heidi, however, can use the trophy to establish her foothold in Chikara, touting an accomplishment that neither Sara Del Ray, Daizee Haze nor Saturyne could claim: Chikara's first holder of the Young Lioness Cup.
It's worth noting, however, that Chikara's tournaments seem to be a bit diluted these days, and not worth what they once were.  Shynron won the Rey de Voladores, and has been a non-item since.  The Devastation Corporation have done their thing since winning the King of Trios.  I can't remember who won the Tag World Grand Prix.  With two real titles now, do we need all of these tournaments every year?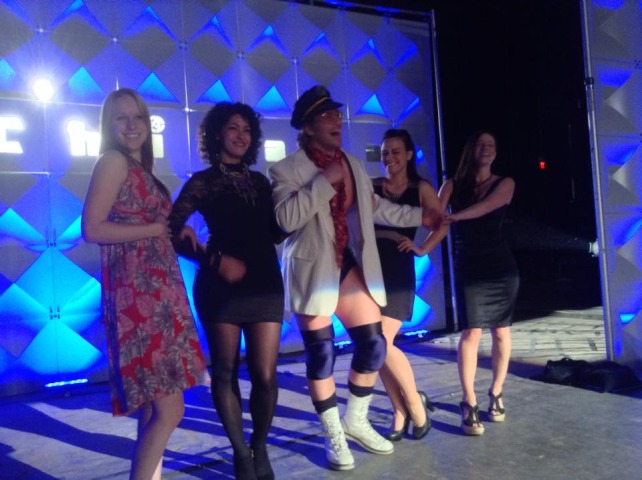 German Suplex Match
Ashley Remington vs. Juan Francisco de Coronado
I joined the broadcast in the middle of the match, and didn't feel like I missed much.  Apparently, I missed JFdC coming to the ring with two heavily-costumed women, and "Smooth Sailing" topping him, by coming to the ring with four ladies of his own.
The stipulation of this match was that it could only be won via German suplex, so you have an idea of how this one went. A lot of time was spent working toward German suplex spots.  Remington eventually won with… you know.
I really dig Remington.  He's a lot of fun.  But I feel like he's really been on autopilot this season, as Chikara introduces him to the fan base.  I hope he has a more meaningful role in Season 15 than offering post-match fruit baskets to JFdC and Chuck Taylor.
Eddie Kingston vs. Jimmy Jacobs
Jacobs was accompanied to the ring by Volgar and a still-bound Lithuanian Snow Troll.  I'm just going to say it – Volgar looks terrible.  His gear is so tight that it shows off how not-in-shape he is.  It's not flattering. It's not intimidating.  It looks more like Butters upgraded his Professor Chaos gear than a pro wrestler, and that's a problem.
I was looking forward to this match.  While it wasn't bad, I was a bit disappointed.  I expected this to be an all-out war, considering it's the culmination of a season-long story arch with King and the Zombie Princess.  It felt a bit like any other match until the ending.
Kingston wins with a Backfist to the Future, securing his third point toward a future Grand Championship match.  Post-match, he's attacked by Kid Cyclone, who attacks him with a wrench.  Cylcone says he's breaking tradition and unmasks himself, and says his name is Kevin Condron. Based on the promo he cuts, it sounds like he's forming his own little army, which is interesting.  His first act was to free the Snow Troll and hand him the wrench.
KC is going to be one to watch in Season 15.  Whatever this was, it feels like Chikara planting the seeds for something big.
A side note here – the sound quality for the house mic SUCKED on the live broadcast.  While the show looked good and professional visually, it sounded like absolute shit.  Production 101 says you send a line directly from the sound board to the camera, so you get a clean audio feed – the way you do with mics at the commentation station.  I don't understand why Chikara can do it for the announce team, but not the house mic.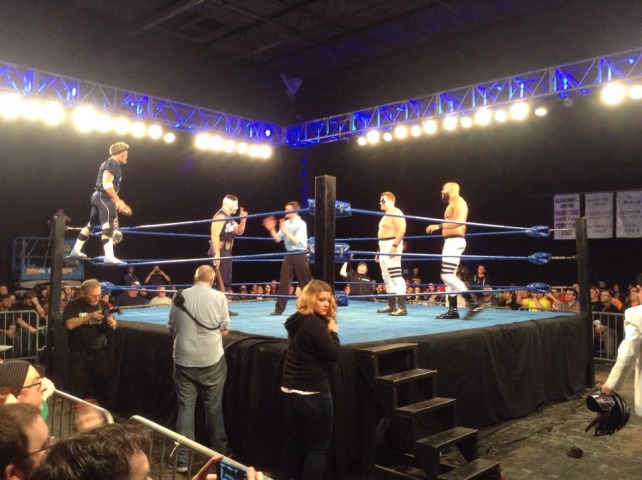 Campeonatos de Perajas
The Throwbacks vs. The Devastation Corporation
Devastation Corporation picks up the first fall with a Death Blow. Throwbacks pick up the second fall when Touchdown scores with a cradle. Devastation pick up the third and final fall—and the tag titles—with a crazy dangerous-looking version of the Doomsday Device.
This match was great.  No overly silly shenanigans, despite the characters involved.  A blown spot or two, but nothing that took me out of the match.  Some really great false finishes, too. The ending sequence?  Just wonderful.
Odds are that if you watched this show on iPPV, or if you pick it up on DVD, it wasn't or won't be for this match.  But if you take the time to really watch it, you'll be pleasantly surprised by how good this is.
Here's hoping that the Devastation Corporation get some worthy opponents, and get to defend the titles somewhat often, as dominant champions.  I'd hate to see Chikara use the Lesnar approach with what was (and, arguably, still is) their top title.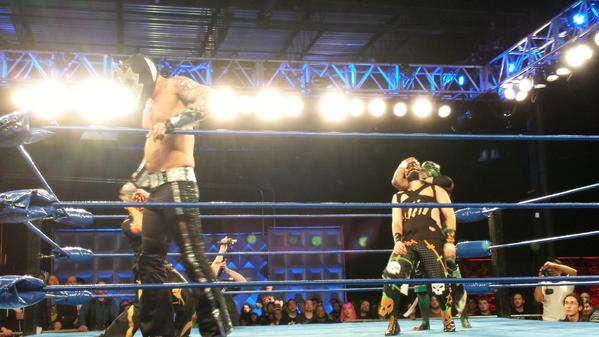 Loser Leaves Chikara
Ultramantis Black vs. Delirious
This match was a years-long rivalry coming to a head, and it definitely felt like it. Delirious was decked out in a crazy amount of war paint.  Mantis busted out the Praying Mantis Bomb pretty early, and uses it again later on for the win.  Good match, but what seemed to matter most here was the post-match angle.
Hallowicked and Frightmare came out to celebrate with Mantis… but Delirious used the Eye of Tyr to turn 'Wicked against Mantis.  'Wicked kills Mantis with a huge big boot. Frightmare crumbles under the power of the Eye, but eventually leaves with Hallowicked.  So Delirious' farewell to Ultramantis and Chikara is to turn the rest of the Spectral Envoy against the devious one.  I dig it.  It definitely creates an interesting dynamic for Season 15.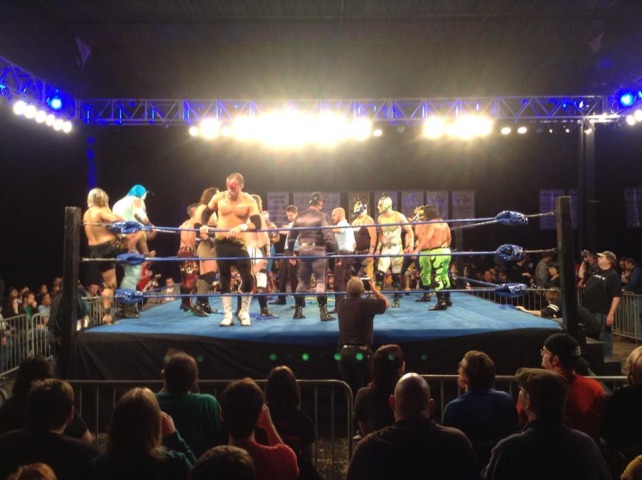 Cibernetico Royal
Team Chikara (Worker Ant, Fire Ant, Silver Ant, Kodama, Obariyon, Ophidian, Amasis and Jervis Cottonbelly) vs. The Flood (Jakob Hammermeier, Flex Rumblecrunch, Jaka, Oleg the Usurper, Nokken, Volgar, Oliver Grimsley, and Soldier Ant)
The Cibernetico is pretty much a giant Survivor Series match on crack.  If one team has multiple members left over at the end, those guys do battle until one man remains.
That was needed here.  After a long (and really great) match, this came down to Fire and Soldier Ant… and Soldier Ant just straight up killed Fire Ant.  And it was awesome.
Soldier Ant has been the subject of a pretty interesting story arch this season.  It seems now that no-selling and lethal offense are part of his character, which is a really interesting turn.  I'm looking forward to seeing what's next for Soldier.
 
Steel Cage Match
Icarus vs. Deucalion
Icarus comes to the ring with Thunderfrog's hammer, which was pretty cool.  He'd spend the match working the big man's arm, rendering his kill move –the chokeslam-backbreaker—unusable.  When Deucalion went for it, Icarus was able to counter into a Chikara Special for the win. Post-match, he used the hammer to kill Deucalion, as revenge for Deucalion taking out a handful of Chikara stars throughout the season.
A lot of people had a lot of bad things to say about this. They said the cage looked bad. It was alright.  They said Deucalion looked bad.  He was never supposed to be a polished wrestler.  He was always a hired gun, the final boss, the guy who came in to finish you off.  His job was to hurt people, not to wrestle them.
I didn't have a problem with this, and I've been rolling my eyes at the people who did.  But you can't please them all.
At the end of the day, I thought this was a really good show.  It was well-worth the $17 bucks I spent to watch it on iPPV…even if my feed crapped out a few times.  My only real complaint had to do with the mics.  The set looked cool.  The crowd was energetic.  The wrestlers delivered in the ring. What more could you possibly ask for?
Chikara returns to action with its Season 15 premiere on the same day as the Royal Rumble… and suddenly, I'm wondering if I can find a ticket for both shows, and a place to crash that night in Philly.