The 2014 Royal Rumble is upon us.  Most wrestling fans are pretty pumped up about what tends to be an exciting show.  I'm no different.  But don't be fooled – a lot can happen, between now and when we next meet, that would make me a very angry Andy.
For one, the size of the card is worrisome.  Five matches – including the kickoff and Rumble itself.  No
Intercontinental, United States, or Divas title matches announced.  The good news?  Everything else will get enough time to fully develop.
That said, let's break down the card, and talk about what would and would not make me involuntarily live the gimmick.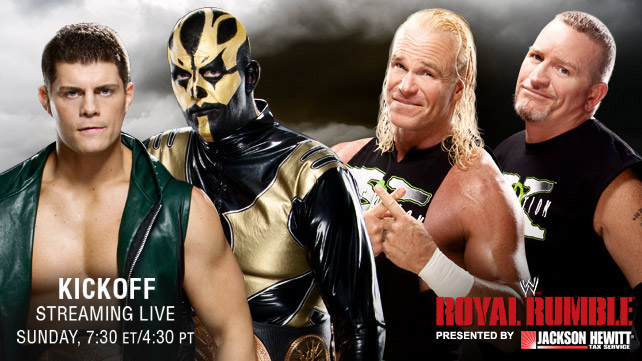 I can't see them changing taking the titles off The Brotherhood on the preshow.  I could see them putting the tag titles on The Outlaws, but not if it means ending an amazing title run for the sake of a part-time comeback reign.

I'll be angry if the Outlaws win clean.  This should be a clean win on The Brotherhood's tag title résumé, so an eventual title change means a lot.  A clean title win by The Authority's has-been lackeys total destroys the run.

I'll keep my cool if anything else happens.  The Rhodes boys should win this one, but if Goldy's going to kick Cody's leg out from his leg,  I'll be ok with the loss.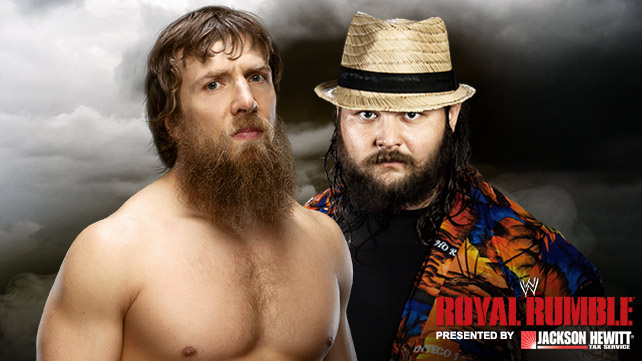 Daniel Bryan and Bray Wyatt…two of the hottest acts in the company.  I'm really looking forward to this one, for all the obvious reasons.

I'll be angry if Bryan doesn't come out of this looking like the biggest star in wrestling.  Win or lose, Bryan should shine.

I'll keep my cool if this one is as good as it's supposed to be, Bryan looks like the uncrowned champion, and Wyatt gets to look good, too.  After the match, Bryan celebrates his win, then asks the crowd if he'll win the Rumble.  Crowd chants "yes!" until the show goes off the air.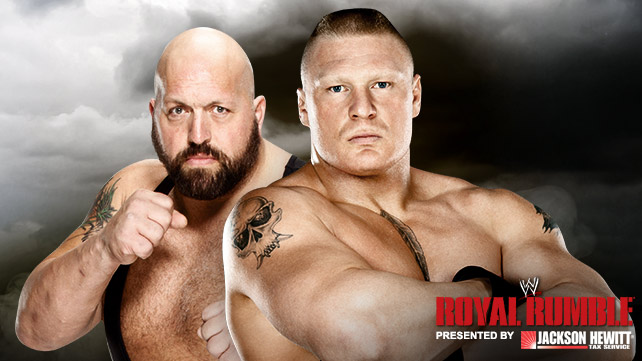 No one seems to care about the Big Show-Brock Lesnar feud.  Why?  Because three months ago, he was a crying underdog, and now he's tossing around the most violent beast in wrestling.  It doesn't make sense, and it doesn't work.

I'll be angry if WWE uses this match as a vehicle for Big Show, rather than Brock Lesnar.

I'll keep my cool if Lesnar wins clean with an F5.  Maybe two.  Add a triple powerbomb for kicks.  Lesnar looks like an unstoppable killing machine heading into Wrestlemania.  After the match, Heyman tells Big Show he bought his mortgage from Triple H, and forces Big Show to become a Paul Heyman guy.  Heyman pays Big Show to sit at home and watch Raw on TV with Zack Ryder.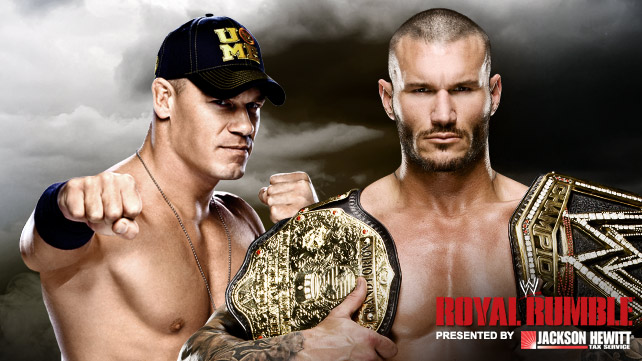 I'm not sure I can remember a title match less exciting than Randy Orton v John Cena.  I mean, sure, Bob Holly once had a title match at a Royal Rumble pay-per-view…but most of us scrubbed that clean from our memory banks.  Sorry to bring it up.  But this feud should have ended at TLC, yet sadly, we live in the world of the rematch.
I'll be angry if this feud continues beyond this match.  It's torturous, especially considering Bryan, Batista, Lesnar, Big E. Langston and Roman Reigns are all so hot right now, and could add so much to the title scene.
I'll keep my cool if either one of these guys wins clean, after 25 minutes of a good-to-great match.  One decisive winner, with no rematch… which was the point of the title unification match in the first place.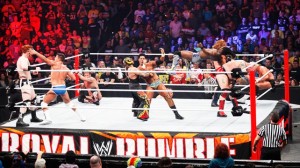 Then there's the Royal Rumble Match.  All signs seem to point to a Batista victory.  CM Punk is entering at Number 1, which either means he's going to go the distance and win, or go the distance and get screwed…and bring us to Punk vs Triple H at Wrestlemania.  Other "main eventers" in this match, like The Miz, Alberto del Rio, Kofi Kingston, and Rey Mysterio don't stand a chance.  Roman Reigns, maybe… but don't bank on it.

I'll be angry if WWE picks a heat vacuum, like The Miz or Del Rio, as the winner.  The crowd won't buy it, and it will feel oh-so-very anticlimactic.  With one world title, however,  I think we're safe.

I'll keep my cool if WWE makes a logical decision with the winner, includes a handful of fun surprises, and uses the match to help a handful of midcarders into bonafide main event, money-drawing stars.
Enjoy the show. I'll be watching with the Juice Make Sugar crew…and hopefully nothing happens that makes me too angry.