FOUR-TEAM TAG TEAM CHAMPIONSHIP ELIMINATION MATCH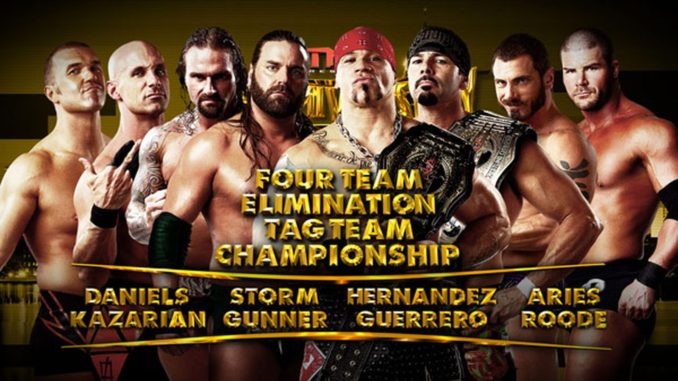 CHAVO GUERRERO & HERNANDEZ
(C)

VS. BAD INFLUENCE (CHRISTOPHER DANIELS & KAZARIAN) VS. AUSTIN ARIES & BOBBY ROODE VS. "COWBOY" JAMES STORM & GUNNER

Best Case Scenario: All four teams "do their thing" and get over effectively. The freshened-up Gunner looks like a house afire (not be confused with a "house of fire") and proves to be a valuable partner for the injured Storm. Daniels and Kaz do their signature mix of effective selling and mild heel comedy. Aries and Roode look good, but not so good as to remind the fans that they are big time stars lowering themselves to be in a tag match. Hernandez looks like a big powerhouse. Bad Influence win the titles because they're the company's best team.

Worst Case Scenario: Mexican America retain on Chavo's frog splash. Nobody is able to effectively shine because the eight-man format is too overwhelming.

Dave Says: This match could be something really special, or it could be meaningless window dressing depending on how the match is booked and worked.