Triple Threat for the

Intercontinental

Championship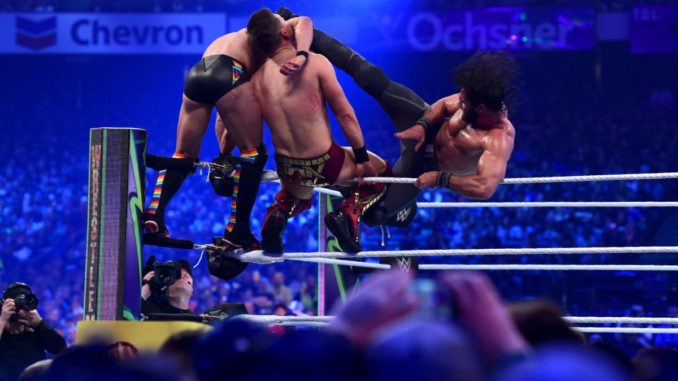 The Miz

(C)

vs. Seth Rollins vs. Finn Bálor
The Hope: For the Miz to finally receive the recognition he deserves and a chance at the longest IC title reign in history with a well-earned victory.

The Reality: Probably some screwy finish that either doesn't involve the Miz at all, or requires him to steal a pin from what have been booked — rightfully so, as they are the "good" guys — as the far superior performers in the match.
While I was obviously very sad at the result and have written the necessary parties to express my distaste, any problems I have with the match revolve around how the relative cleanliness of Seth's victory made the match both better and less interesting in the moment.  It's not as though I want Seth to turn heel as a result of this match, but I'd also prefer to not have to sit through another Seth-Finn feud if I can avoid it. God willing, someone catches Finn's eye on the roster and not just because he gets to see what his abs would look like if he could tan or wasn't philosophically opposed to body hair, because that's how we got into this whole Seth Rollins thing in the first place.
Anyways, I digress… which is what I did a lot during this match. Maybe it was that it was the first match, or maybe I just realized early on that the Miz was on his way to daddy duty — bless his heart — and won't be passing Pedro Morales any time soon. Seth will make an excellent champion and won the title against game opponents on a match worthy of the stage, but there's not much else to say about this match: Everybody looked good, the action built logically and the end spots were spectacular, just not transcendently so.
All-in-all, this is the definition of a "only see when I'm rewatching this PPV but never skip it when the show is on" match, which is nice but ultimately underwhelming with the talent involved.
Match Rating: +.6