Six-man Tag Match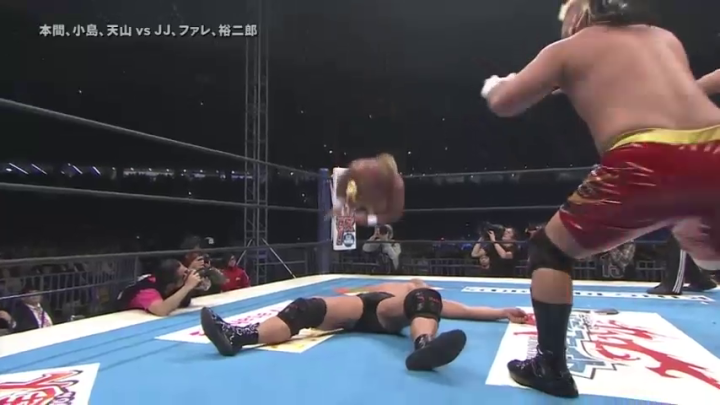 Tomoaki Honma, Satoshi Kojima, and Hiroyoshi Tenzan vs. Bullet Club (Jeff Jarrett, Yujiro Takahashi, and Bad Luck Fale)
For many, this PPV was their first experience (in-depth or otherwise) with New Japan Pro Wrestling [ref] 1. Including to a large extent, your correspondent, whose experience with Japanese wrestling extends only as far as all the matches that Dave and our mutual friend Mike have shown me. I have seen many Japanese performers in the US, but almost exclusively at ROH shows.[/ref] — and as such, performers like Honma, Satoshi and Tenzan don't have nearly (if any) of the kind of emotional resonance they have with the audience in Japan.
And, more importantly, given that they were — as I am to understand it based on Striker and Ross's commentary — representative of the righteousness of puroresu in the face of corruption by Western forces (themselves represented in general by the Bullet Club, and in this in particular, King Shit of Gaijin Mountain Jeff Jarrett,) I wasn't even exactly "rooting" for them as I'm, you know, Western. (And don't get me started on JMS's wildly attested-to love of Jeff Jarrett.)
All of this could have been forgiven is the match had anything to it, but it was largely a fan service to people already familiar with all the characters — especially those on the NJPW side — and the requisite bone thrown to Double J fans the world over with the accidental guitar-based braining of Takahashi. That's not to say this was a bad match, but if the idea is to get me to want to watch either more NJPW or, maybe more importantly, old NJPW on NJPW World, this was not the match to do it.
Match .25 | PPV 1.0