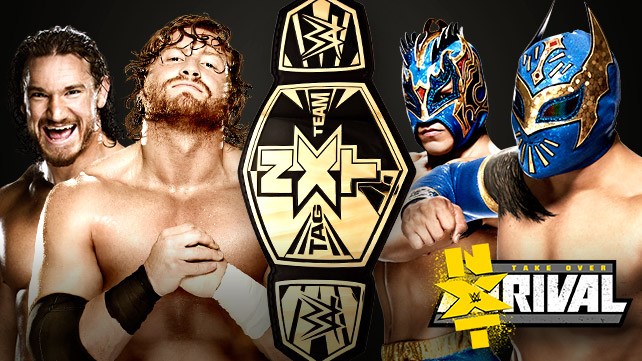 NXT Tag Team Championship
Blake & Murphy (c) vs. Lucha Dragons
I'm not excited for this one at all, and there are a few reasons for that.  First off, Blake and Murphy seemingly came out of nowhere to take the straps.  Secondly, Sin Cara has been working with the main roster again, with absolutely no mention of his NXT run, his tag title run, his team with Kalisto… so it's as though none of it has mattered.  Add in the fact that Kalisto is due for a main roster call up (and, potentially, under a new gimmick), I just don't see a lot to be excited about.  If nothing else, this has potential to be a sleeper hit.
I'll be angry if: This goes long.  Either Sin Cara or Kalisto look bad in losing… and they WILL be losing.
I'll keep my cool if: This goes just long enough to make Blake and Murphy look legitimate in victory…and they WILL be victorious.
I'm expecting: This goes a lot longer than you'd expect.  The champs retain due to some lucha confusion, followed by the unceremonious end of the Lucha Dragons as a tag team.