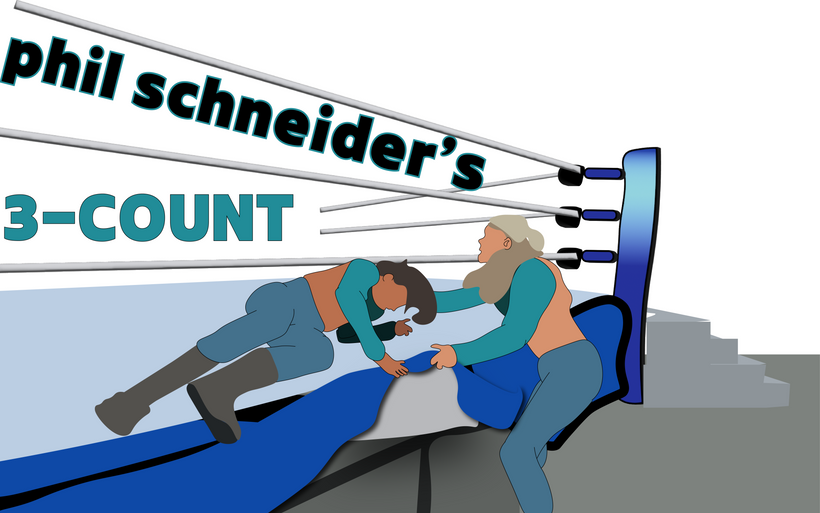 Brawling Brutes vs. Pretty Deadly and Austin Theory
Sort of a barren week for the WWE, but we did get a very long six-man tag on Smackdown with a bunch of wrestlers I enjoy watching. I am a really low voter on Theory, but he is perfectly solid as a less charismatic third member of Pretty Deadly. Pretty Deadly are such a solid act, the kind of team who should have a 20 year career in the WWE, great stooges, hateable shtick and some really clever offense. hiding underneath the ring skirt to fool Ridge, it felt like a lost Fabolous Rougeau Brothers' spot, and a great way to steal a cheap win.
Sheamus and Butch are the more acclaimed members of the Brawling Brutes, but I want to give a shout out to Ridge. One of the cool things about the recent WWE is the number of Steiner Brother archetypes we have gotten, Ridge isn't as dynamic as the Creeds or Bron Breakker, but a B- Steiner Brother is way better than a hundred B- AJ Styles which has been the WWE archetype over the last few years.
Six man tags are such a digestible form of pro-wrestling, and this whole match went down really smooth.
Darby Allin/ Orange Cassidy vs. Gates of Agony
Pretty classic pro-wrestling formula, get a pair of bruisers and let them hurl around tiny charismatic babyfaces. This is the best the Gates have looked in AEW or ROH and it makes total sense, Allin is legitimately one of the greatest crash test dummies in wrestling history and Orange isn't that far behind him, and the Gates are both great walls to crash into. The Gates are a modern Samoan Swat Team or Faces of Fear (even though Kaun is Cameroonian not Samoan) just a pair of big scary guys who hit like tanks. I like how the Gates totally controlled the early part of the match, cutting off all of Darby and Orange's signature stuff, including Liona (who the announcers mentioned playing linebacker at San Diego State, where the event was) trucking Darby mid-Coffin Drop with a huge shoulder tackle, and another sprinting shoulder block on the outside which defenestrated Darby.
Orange is a surprisingly effective hot tag, it is sort of the opposite of heat, but hisshtick is so familiar and pleasing, that it is a blast to watch him respond to the tag by putting his hands in his pockets and running through his routine. Loved how the face team finally were able to get the match on their trajectory and kept drilling Toa to isolate Bishop Kaun. Toa is such a monster that I buy it requiring an Orange Punch and two big topes to keep him occupied. The Mogul Embassy feud is a perfect little side mission for Darby and Orange as we wait for them to get cycled back to the top of the card, lots of fun opportunities for singles and tag matches.
Claudio Castagnoli/Jon Moxley/Shota Umino vs. Hiroshi Tanahashi/Kazuchika Okada/Tomihiro Ishii
Another big six-man tag was the highlight of the New Japan Dominion show. The Blackpool Combat Club came to Osaka with their young boy Shota Umino and faced off with three of the biggest stars of the promotion.
Claudio clearly had a blast in his return to Japan (he and Chris Hero had a run in NOAH as the Kings of Wrestling between 2008-11), as he got to Giant Swing Okada and exchange big shots with Ishii. Moxley got to throw hands too and even busted himself open with an Ishii coconut headbutt. Okada and Umino was the big story of the match, Okada has been sort of a late career Jumbo Tsuruta lately, grumpily beating on the next generation of Japanese stars, and the BCC gassed Umino up enough to get in his face again and again.
Not a ton of depth outside of that, but it was a lot of fun to watch big stars interact with each other, especially because a lot of those interactions were pretty unique. The big story was the post match promo with Danielson challenging Okada for Forbidden Door. I am not a huge Okada guy, but it is hard to argue with a first time dream match like that, and I hope we get some fun stuff from the other five guys in this match as well.