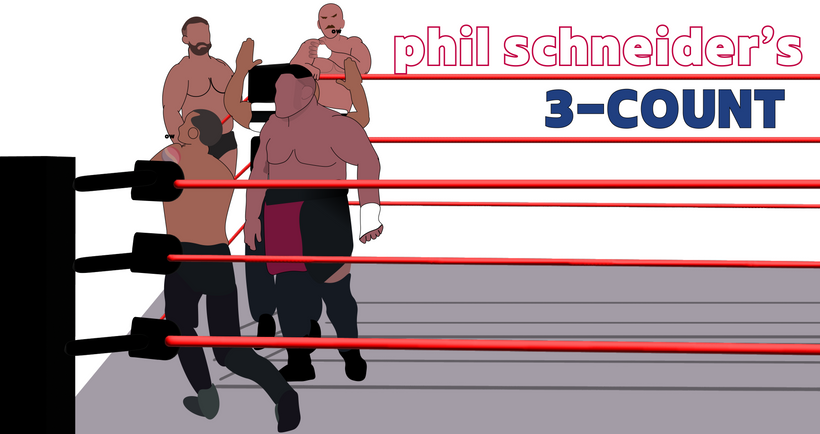 CM Punk/FTR vs. Bullet Club Gold/Samoa Joe
https://www.youtube.com/watch?v=pJXN0um2vF4
Punk actually wrestling in the ring has been pretty overshadowed by all of the varied drama surrounding him since his last match. Even on this episode of Collision, the front page headline was the promo he cut at the opening of the show, and how much of it was approved, and where it might lead. Punk actually getting his tights and boots on was pretty low on the list.
Despite that, it is pretty clear that he is still a super compelling in-ring performer. Punk smartly tied himself to FTR and let them do a lot of the heavy lifting in the match, mainly tagging in to have some killer exchanges with Samoa Joe.
Joe really came out of this match feeling like one of the biggest stars in the world. He is clearly a bit athletically diminished, but he has retained all of the fire in the belly which made him so compelling back when he and Punk had their first matches nearly 20 years ago. I loved Punk controlling Joe early with a headlock, which was a technique he went back to again and again in their ROH series, and Joe fired back.
I totally bought into the Kokina clutch near fall, Punk did an awesome job bugging his eyes out and selling it like death, and the whole political situation made me believe that Punk might drop his first fall back to show everyone in the locker room what a team player he was going to be. Of course, Punk does go over, with Juice Robinson being the obvious fall guy.
Bullet Club Gold isn't the Bullet Club anyone wants to see Punk feud with, and this match didn't do a ton to make me want to see more of that, but serve me all the Punk vs. Joe you have in the back, and I will eat it up.
Kevin Owens/Sami Zayn vs. Gunther/Ludwig Kaiser
https://www.youtube.com/watch?v=CcmRP7LcrtM
The Steenerico vs. Ringkampf feud has been carrying the in-ring WWE the way the Bloodline feud has been carrying the storyline. These are just four workhorse pro-wrestlers given a bunch of time in various combinations, and while I would love for one of them to have a good finish, the pre-finish work is great.
Kaiser is by far the least acclaimed of the four, but man is that guy a beast, everything he throws has such crispness and force to it, and he is an underrated in-ring bumper, he just flies on all of the offense, and has some great little stooging sells. I loved him going for a kick on Zayn on the turnbuckle and charlie horsing his thigh. Gunther is tremendous as a rampaging locomotive, he is always one big shot away from completely taking over a match, and almost needs to beat himself, like missing the chop on the ring post. Loved the run of combo Imperium offense before the Riddle half run-in, that doomsday uppercut is such a nasty bit of business. Could watch versions of this for a while, it doesn't have the frenetic intensity of Imperium vs. Brawling Brutes, but it is damn quality meat-and-potatoes wrestling.
Kevin Blackwood vs. Roderick Strong
https://twitter.com/WrestlePrestige/status/1671965416200212480
This match was Roddy Strong's return to the indies after seven years in NXT (his last indy match before this was a PWG match in 2016 with Timothy Thatcher which someone should run back). Blackwood is part of the current wave of young hard-nosed wrestlers who grew up on the grappling heavy generation right before them. The Strong/Danielson/Shelley/Ki era gave birth to the Gulak/Thatcher/Busick generation who were the big brothers to the group which includes Blackwood.
Especially in the early parts of this match this was grinding stuff, with every arm bar, gator roll, hammerlock and chicken wing being fought over. Lots of hand fighting, and short little strikes to open up advantages, nothing looked smooth, nothing looked easy and the struggle was really what made the match special. Blackwood posted a clip on Twitter of him fighting to land downward elbow strikes, and they meant way more than normal because each one required so much effort.
The second half of the match had more of the strikes and bombs you would expect from a modern indy match. These are a pair of guys with really good bombs and strikes, Strong is one of the nastiest choppers in wrestling and Blackwood tried to match him slice for slice. Blackwood hit one of his big double stomps and Strong landed some of his trademark back breakers, including a nasty avalanche backbreaker on the top turnbuckle and a suplex flipped into a backbreaker.
There are a lot of cool possible opponents for Strong if he is going to work more indies. Would love to see him against Mad Dog Connelly or the returning Matt Makowski, especially if he is going to continue to lean into his grappling and striking.