It's Christmas WrestleMania Sunday, which means it's time for us to ask the most important question of the year: "What's the Worst That Could Happen?" AT WRESTLEMANIA.  And, because we love you, we also gave you a PPV Predictions episode of Headlock'd fresh from the oven this morning,  sometime with Angry Andy (actually, a lot of time with Angry Andy) and will have an Official Juice Make Sugar drinking game for you before the show starts. All of this (for free!) before we drop our world famous Bang for Your Buck PPV review in your lap on Monday morning.
To make sure you don't miss anything, follow us (or me) on Twitter and like us on Facebook. And if you haven't had a chance, check out my Field Guide to Wrestlemania XXX over at Deadspin. (Yes, I'm just as surprised as you are.) Now that we've gotten the shameless plugs out of the way, let's figure out What's the Worst That Could Happen tonight in New Orleans:
Kickoff Match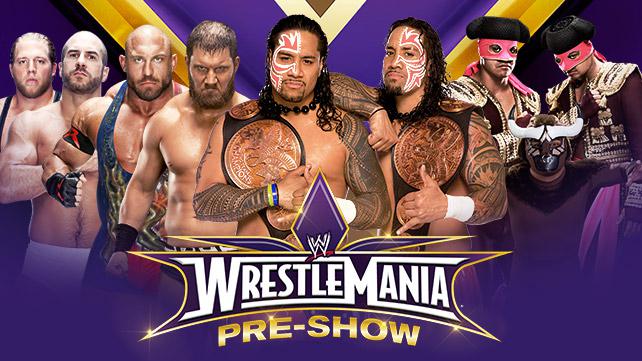 Fatal Fourway for the WWE Tag Team Championship
THE REAL AMERICANS vs. RybAxel vs. THE USOS (C) vs. LOS MATADORES
Best Case Scenario: Enough time for everyone to look good, with this match getting treated more like a match that happens to be on the "pre-show" than one that belongs there. And, of course, a giant swing involving a tiny bull.
Worst Case Scenario:  Some sort of convoluted shmoz finish, where nobody looks good and the Usos look like they got lucky. And, of course, if there is no giant swing involving a tiny bull. 
What Nick Wants to Happen: Los Matadores win, with El Torito helping them turn heel by spearing one of the Usos right in the Danger Zone.
What Will Happen: Cesaro will give a giant swing to a tiny bull, the Usos will retain in some sort of convoluted shmoz finish that doesn't make them look great but at least better than lucky.