ACES & EIGHTS VS. MAGNUS, SAMOA JOE & JEFF HARDY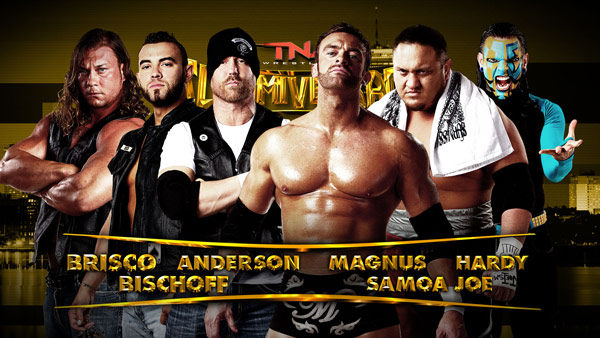 Best Case Scenario: Heels bump. Babyfaces shine. Magnus gets an effective rub from the returning Jeff Hardy. The crowd gets a "feel good moment" against Aces & Eights when Hardy wins with his Swanton Bomb to set up/soften the blow for Ray's main event victory.
Worst Case Scenario: One of the three babyfaces turns heel and joins Aces & Eights. Garrett and West get too much offense and/or can't sell effectively enough to make their opponents look good.
Dave Says: I was openly pushing for Magnus and Joe to get onto this card, so I'm happy TNA snuck them in on Thursday's Impact. It's interesting that they didn't advertise which members of America's favorite biker gang would be participating until this picture was published. Anderson has been pushed as above this kind of match in recent weeks, and Mike Knox (whose official name is, I believe, "Knux") hasn't been booked as anything more than a guy standing in the background with a beard.