LAST KNOCKOUT STANDING MATCH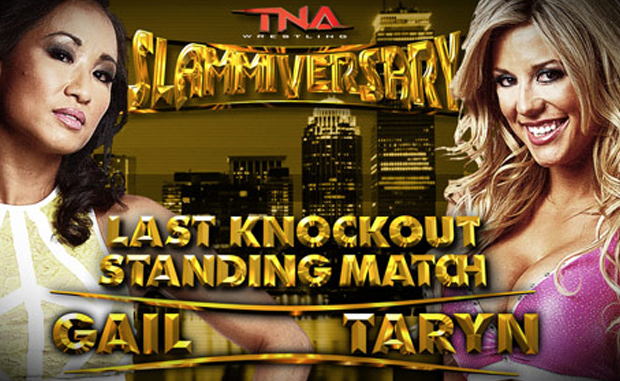 GAIL KIM VS. TARYN TERREL
Best Case Scenario: TNA trusts Gail Kim enough to give this match a solid 15 minutes on the card. The match is well-paced and gradually builds to increasingly violent spots by the heel (Gail) and increasingly heroic spots by the babyface (Taryn) until Gail bites off more than she can chew and can't make the ten count, putting over Taryn and elevating her as a worthy opponent for the freshly-turned Mickie James.
Worst Case Scenario: The match is insultingly short for a last person standing match (under 12 minutes). Gail tries her best to make Taryn look good, but it doesn't work. TNA abandons logical storytelling and has the match finish on some over-the-top stunt spot (Gail goes through the stage, or the like).
Dave Says: The rivalry between Gail and Taryn has been a consistent focus within the Knockouts division for this entire quarter. I don't know that this will be a classic match, but at least they've chosen a legitimate "blowoff" stipulation for something they've featured for so long on TV.