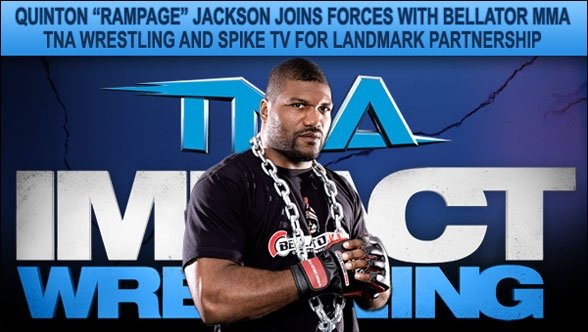 TNA Says: New TNA Wrestling superstar RAMPAGE JACKSON will be LIVE on IMPACT on Thursday night! What plans does Rampage have in TNA? Don't miss the TNA debut of the MMA superstar!
Best Case Scenario: Rampage cuts a spirited promo about how happy he is to be part of the TNA family and establishes his mission as rising through the ranks as quickly and systematically as possible, with the TNA World Heavyweight Championship as his ultimate goal.
Worst Case Scenario: Rampage gets involved physically right away and either potatoes the bejesus out of someone or throws some lousy work punches that show a ton of light. Either one of these scenarios is equally bad for wrestling, although the former would give Rampage a ton of credibility.
Dave Says: Rampage is an interesting addition to the pro wrestling world, but he would have been a far more interesting addition five years ago. He definitely takes Bellator to "a whole 'nother level," but it's hard to say how he will perform in TNA.