FINN BALOR & HIDEO ITAMI VS  TYSON KIDD & TYLER BREEZE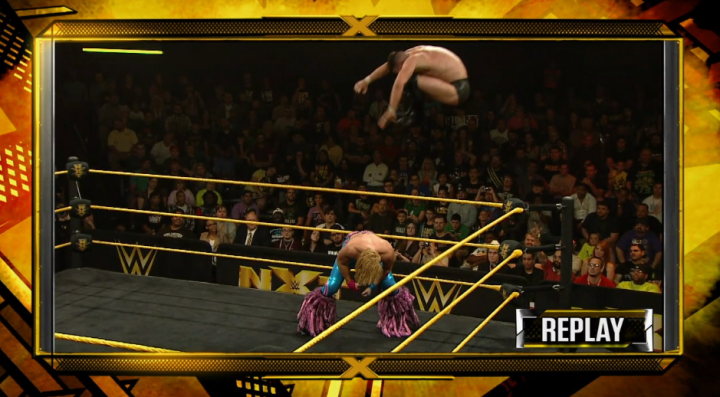 Finn Balor looks pretty amazing already folks. I really don't know how much time this cat really needs. They'll be a huge vacuum at the top once Zayn and Neville leave, so I can see him sticking around for awhile just to help the youngsters and make NXT a great show. But I don't see much beyond character tuning this guy needs. OH AND HE'S PROBABLY BREAKING OUT THE BODYPAINT FOR THE LIVE SPECIAL. NBD.
One of the best things about the WWE Network is the ascendancy of NXT. It's the only must-watch weekly show. But this new-found spotlight might negatively effect the benefit-of-doubt performers get to hone their skills. The amount of mind-share NXT receives is rapidly expanding, and the luxury of time performers have to make mistakes and grow might wane. Developmental went from a style akin to Single-A baseball, played in rural towns far away from the spotlight and off TV, to big-time NCAA Football, with the money and expectations that come with it. Meaning there's less margin of error and way more pressure for hyped recruits to make a splash and move up quickly. I wonder how much patience fans will have with Hideo Itami. You can just see it in his eyes as he walks down the ramp. The confidence is not there. The ring-work is fine for the most part, but you can see hesitation creeping in a bit too much.
Expectations are of course immense, but let's not forget that the process could take a very long time. And that's nothing to worry about. Sami Zayn debuted  almost TWO years ago and is still in NXT. Let's give Itami some time to make it work.
I AM worried about Tyler Breeze though. What can they do next to get him ready for the big-time? He's a solid wrestler with a match of the year candidate (Zayn at Takeover Uno), but the essence of his gimmick is already on the main roster in the Miz. So where does that leave him besides a slightly better Adam Rose?  I really have no ideas.
Tyson Kidd broke my percentage scale. I have no choice but to give him a cheeky number to try and express my love and gratitude for his current work. Best kept secret in WWE.
Finn Balor – 80% 
Hideo Itami – 55% 
Tyson Kidd – ∞ 
Tyler Breeze – 88%