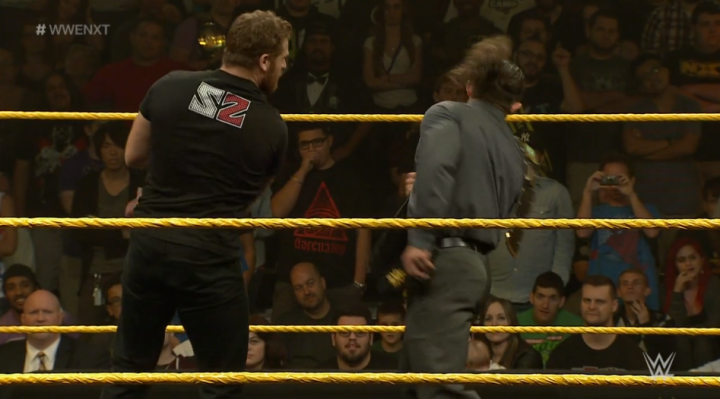 While NXT is often the second (and sometimes THE) best show WWE produces, its primary goal is to make future superstars for the main roster. Each week we'll scout each performer, and try to assess how close they are to deserving a main roster spot, with 100% meaning "ready" (from a talent and character perspective.) Due to the fluidity of movement between shows — e.g., Tyson Kidd is on every show – anything more than 100% reflects where their position should be throughout the company.
And while the numbers are somewhat arbitrary, they should be able to give an idea of the relative main roster readiness between someone like Sasha Banks (108%) who is totally ready and should come in to The Show with a leg up on some of the competition and Bayley (93%) who isn't quite totally there yet, but would probably be able to keep her head above water if thrown in the deep end. 
CHARLOTTE VS JOBBINA (SASHA/BAYLEY PROMO)
Sometimes I get worried about Charlotte. The skill is there. No one else is even close, not even anyone on Raw. It's just about timing now.  My concern is about her character, or lack there-of. What is her main motivation, her drive? I want mean. I want brutal. The Brock Lesnar of women's wrestling. Right now she's only a face because Sasha Banks is such a good heel. I'm not concerned it'll negatively impact her career long term, as a gray area exists for pretty much all Divas on the main roster besides maybe Nikki. But damn, I think she could be the best ever, and a sharper idea of who she is (an unstoppable killing machine tbh) must crystallize for her to have a chance at immortality.
Let's check off all the #heelheat talking points Sasha hit in her promo on Charlotte:
Wore her opponent's t-shirt in a mocking fashion.
Threatened her opponent but refused to fight RIGHT HERE RIGHT NOW.
Disparaged her opponent's family.
Ran down a 16-time World Champion and one of the most beloved wrestlers of all-time.
Kicked the injured leg of a crippled child-woman who may be autistic.
Okay, so I don't actual think Bayley's playing an autistic character. But the WWE crowds are gonna eat her alive if she doesn't get tougher. We love puppies (no not that kind Jerry), but nobody wants to watch puppies wrestle. So it was really nice to see her get nasty with Sasha and call her ratchet. Only problem: Charlotte had just chanted it along with the NXT crowd, so Bayley claiming she was the only one tough enough to say it didn't land. Next time kiddo.
Charlotte – 150%
Sasha Banks – 108%
Bayley – 93%