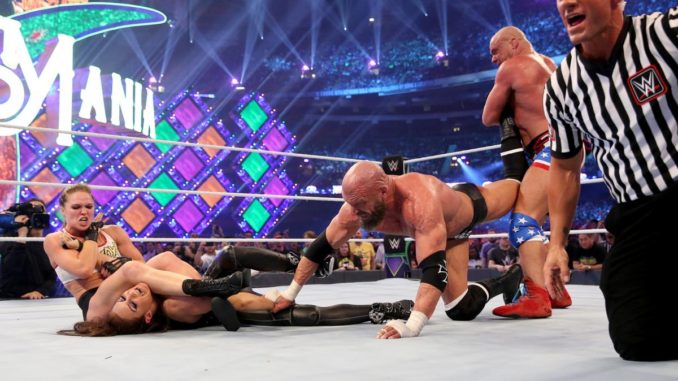 Kurt Angle & Ronda Rousey defeat Triple H & Stephanie McMahon
The Dream: Ronda, with her background, finally breaks the WWE's rule on non-Ellsworth intergender wrestling and spends the entire match throwing Hunter all over the ring, like so much WrestleMania XXX.

The Hope: A good, safe match where everyone is made to look good and which helps build in a feud between the prominent figures going forward
This shit was so good. It may seem both under and over statement to say this was as good a performance in their first match as anyone has ever had, but perhaps the sheer absurdity of it all — that one of the most popular performers in all of sports also happened to be a lifelong wrestling fan who had a real dream of starring at WrestleMani  — makes it about the only way you can contextualize it.
And as such, it was fitting that the only person who has even an inkling of what Ronda's going through — Kurt Angle, he of the Olympic gold medals and storied collegiate career before joining the WWE — was there with her to pull off as well-executed a moment as the WWE is likely to produce for a while. The match, while not technically perfect and with certainly clear areas for improvement on Rousey's part, was the pinnacle of the kind of showcase "WrestleMania match" which exists externally from the constants of time and space that affect the rest of the WWE Universe.
Which isn't the same as matches that don't matter, like Bam Bam vs. LT or Mayweather v. Show. These are the kind of matches where very important people turn from contextually significant competitors (champions, backstage power brokers, etc.) into fully realized professional wrestling megazords with amped up power levels. And in that lineage — of Sting v. HHH, Rock v. Cena I & II — this is perhaps a cut above the rest given the shocking potential that Ronda seems to possess in the ring.
If nurtured correctly, positioned in the right ways and treated like the world-class martial artist (as well as surprisingly capable "wrestling actor") she is, the WWE has the kind of star you can build or sustain entire companies around in other instances. All with a passion for the business and success that can only come from a lifelong love affair with the business.
But it would be unfair to act as though Ronda was the only person who contributed to The Spectacular Wow of this match, as all four performers — and even the referee — hit nearly every mark and polished this match into a shining example of what makes professional wrestling the kind of transcendent delirious fun that makes you want to watch it over and over again, not just because you can't look away but because of a healthy compulsion to stay present in the moment of what you are watching.
This match wouldn't have worked with HHH, Angle and Stephanie, putting together the kind of performance that makes the year of hard work preceding it worth it for everyone involved. This was not only the match of the night for me, but a Pantheon WrestleMania match that I will likely watch multiple times in the next few weeks.
Match: +1
Show: +2.8