Fatal 4-Way for the

United

States

Champi

onship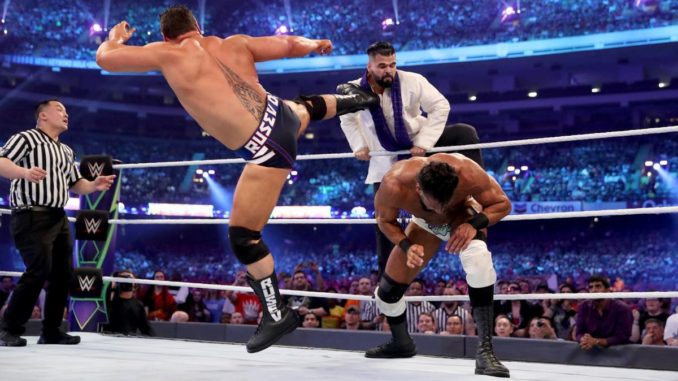 Jinder Mahal wins US Title

The Reality: Jinder, unhindered.
I mostly used this match as a note taking, chicken making time, if I'm being completely honest. This entire experience felt like what happens when you have too much of a meal you only kind of enjoyed (unlike the chicken I made, which was LIT AF.) None of it was bad, per se, but the amount of it made the entire experience worse.
Except, instead of unseasoned potato salad, its mid-card stink. I know I say I love people a lot (and I do) but Rusev is my heart and I want only what's best for him. This shit was almost it, but I need to see more. Rusev works best as a fringe main eventer, using his unique combination of size, strength and handsomeness to pose a threat, if a little too goofy and self-centered to cause any actual issues. But that's not necessarily what we got here, which was Rusev as the least shitty person of four guys. No longer a giant fish in a sad pond just big enough to keep him comfortable, Rusev needs to be treated as the babyface he is inside: A hirsute, heavyweight Eddie.
It was however, even in a match with three other relatively unsavory character, nice to see him take the hero pin — taking the interference loss after chicanery by the actual bad guys — if nothing else. As such, I reserve the right to change this match's rating (in my head) at any point in the future if it turns into an actual feud between Rusev and Jinder to see who can truly be the most unhindered.
Match: +.4
Show: +1.8