SmackDown Women's Championship Match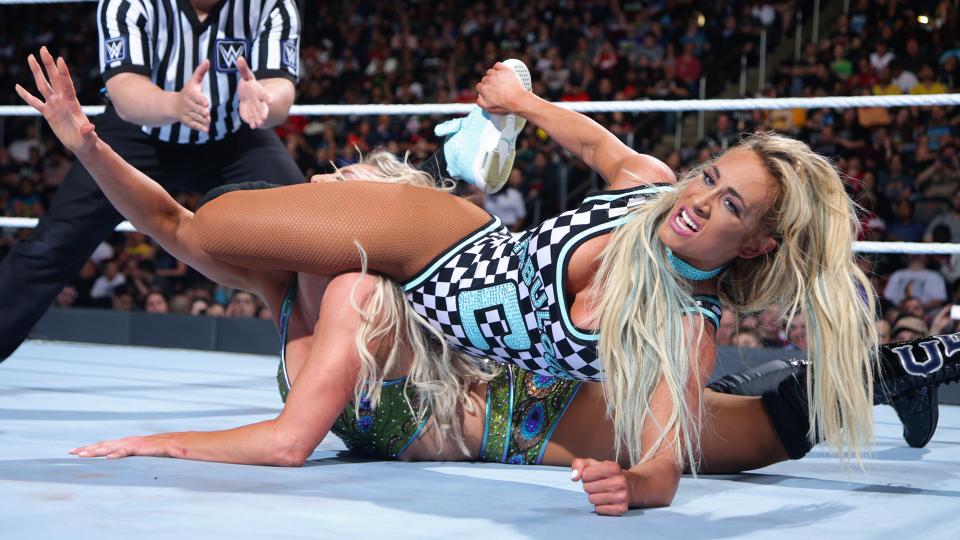 Carmella
(C)
The Reality: This should involve an almost egregious amount of Shenanigans, eventually leading to a Carmella victory. But just which shenanigan would be a shenanigan too far will be the challenge for everyone involved. Carmella can't look helpless, but having her look like she could beat Charlotte by herself if she wanted doesn't really connect with what even Carmella's said about herself and they should avoid it at all costs at this point in their careers.
We are not ones to complain about booking around here, but having Carmella win this match with an above-the-board roll-up following a mistake by Charlotte seems like a remarkably odd way to have her start out Flair's post-WrestleMania run towards next year's presumptive main event.
There were so many other ways to do this, including just having Carmella cheat on the pin even a tiny bit. Not every Money in the Bank winner should be a scoundrel, but the ones who win it with the direct help of other people probably should. Carmella has talent and this match worked as an example of her abilities in-ring, but there seems to be no reason for a rematch between the two unless Charlotte earns it and, quite frankly, that's a journey I've already been on before.
It wasn't the worst match on the card, but Charlotte's got the talent to be in the best one every single night. Carmella might get there, but she isn't yet and having her beat the Michael Jordan of the women's division like this isn't going to make it happen any sooner.
Match .5