RAW Women's Championship Match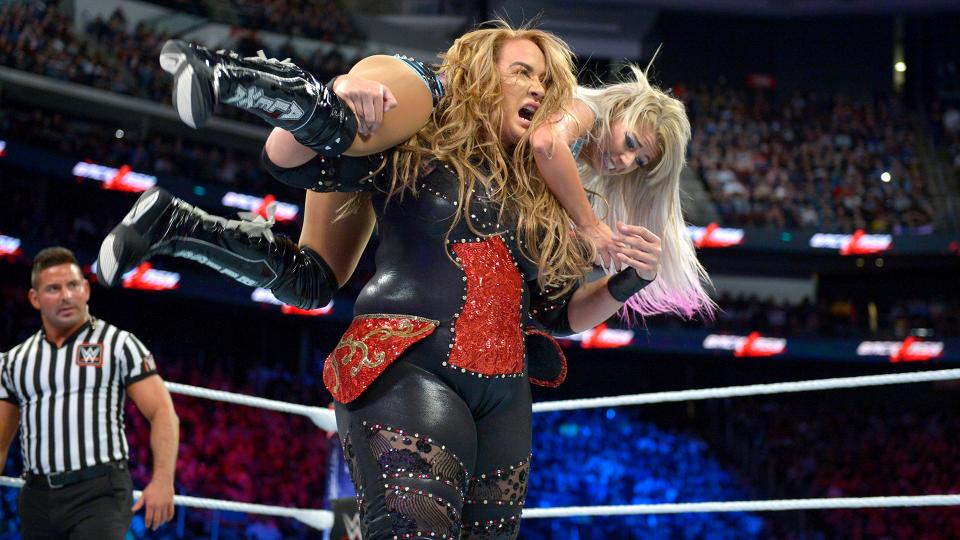 Nia Jax
(C)
The Reality: This feud largely did the best it could with what's been somewhat gross material, as Alexa's "Moments of Bliss" have pretty solidly toed the line between "telling jokes that are not funny and just low hanging fruit that allows them to make degrading jokes about womens' appearances on the shows as a cool/good thing people should want to do" and "heel". But it's definitely time for this feud to end with Nia winning and it's hard (as well as not particularly fun) to imagine it going much further than this.  
Although it was the same length as their title match at WrestleMania, this felt like a fairly long match for Nia and not necessarily in a good way. Not in the sense that she was blown up because that would be insane considering she's a professional athlete who works hundreds of shows a year. Rather, it felt like this went on way longer than it needed to because they felt so determined to make Alexa look formidable coming out of this feud. Nia's been working for too long and knows Alexa too well for a lot of the spots she attempted to make sense. There was nothing gained from having Nia attempt a Super Samoan Drop a second time after the first catastrophic failure or a Vader Bomb once.
Especially when facing Alexa in a return match for a title (at least as her character has been written to this point,) something both the pre-show panel and the commentary team mentioned multiple times during the match.  That Alexa appears to have been working hurt at some point in the the match takes a lot of the onus off of the pair for the rough patch in the middle, not that anyone was expecting Rollins-Miz. There were enough high spots to make this worth sitting through on a rewatch of the show you had to do after losing a bet, though I think we'll all be happy to not have to go through another PPV cycle center around this feud.
That ending indicated pretty strongly that Nia's time has come and she'll be moving onto a feud against (one presumes following her victory against Bayley) Ruby Riott. Riott would be a good fit against Nia in the ring and the Riott Squad can replace the "bully" heat that Alexa was able to generated while not also centering the entire story around bullying. This all means that Nia would be able to be the babyface without having to defend her right to feel comfortable in her own body, which is nice.
What was also nice was Michael Cole's direct plugging of the BE A STAR anti-bully initiative. But it was also the kind of thing that could have been more prominently featured in the feud.  In the future, with feuds like this (meaning those involving explicit, schoolyard/social media-style bullying) running concurrent BE A STAR campaigns is something they should seriously consider. In-house ads about anti-bullying directly following segments involving bullying stories would be a proactive way to actually use the story line for good and, more cynically, preempt justifiable internet complaining over the subject matter. WWE is show geared towards families, of which children are a part and as such they have an obligation to respect the very real world effects of bullying if they are going insist on using it as a concept in their storylines. The WWE doesn't have to become an after school special, and I'm not expecting Samoa Joe to apologize to Samoan Joseph for saying he let down his family by losing to Brock Lesnar, but at least own the smell when you intentionally step in shit.
Match: .6