Intercontinental

Championship

Match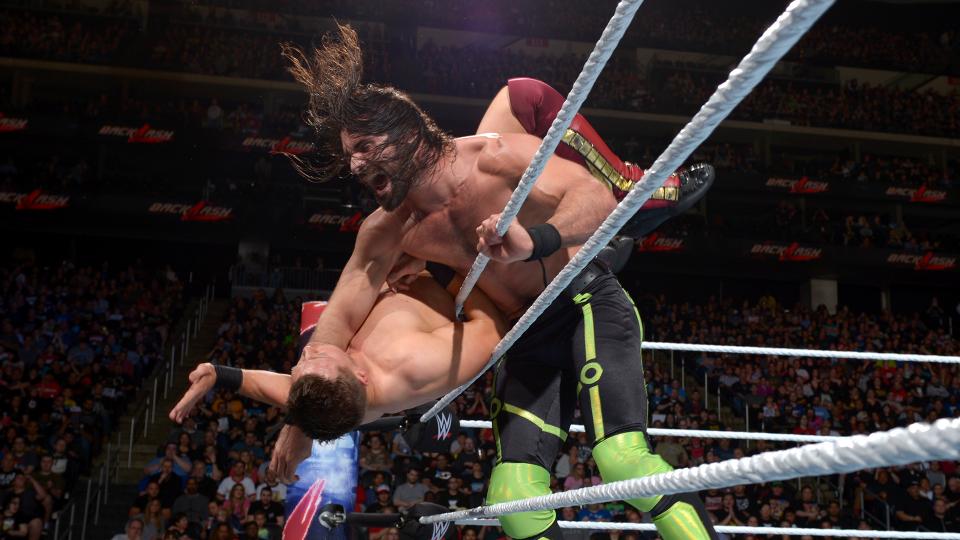 Seth Rollins
(C)
The Dream: For this match to get twenty minutes and no one gets hurt.

The Hope: Miz finally gets to have a truly spectacular match with someone who has been as hot as anybody this side of AJ Styles in the ring, and gets to look like someone who just missed out on that night and not someone who has no business being in the ring with Seth in the first place.

The Reality: Given that Raw needs a mid-card title and there's literally no way the US title can leave SDL, Seth Rollins essentially has to win, unless they really want to have one continuing storyline between the two shows that exists outside of any authority  figures. Which wouldn't be the end of the world, but seems unlikely.   
It's hard to imagine a performer being more on their game than Seth Rollins is right now. He's not creating masterpieces every week, but this feels like one of those special seasons of television (see: Season 3 of Parks & Rec) where every single individual episode works on its own and in the larger context of their whole body of work. And if his hour-long gauntlet match was "Media Blitz," — a spectacular tour-de-force performance by Adam Scott, including one of the truly great meltdown scenes in television history — this match was  "The Fight," a perfectly choreographed dance between two major stars with subtle, but remarkable chemistry.
And if this match (or the feud from whence it came) didn't put Miz into  "all-time great" status, nothing will. That he still has three-five years or so of top-level competition ahead of him means that we may seriously be on our way to looking at Mike Mizanin as the greatest success story in the history of professional wrestling. Becoming the most important heel of your generation is an accomplishment for anyone, let alone someone who started his television career on The Real World and in the WWE as the host of the Divas Search. He's finally reached the point where his matches are considered a guaranteed highlight by everyone and not just the people who got out of their way to watch the "bad guys" do the good stuff.
HAVING SAID ALL THAT the result of this match was WAY too predictable, as there was simply no way they were going to put the two mid-card titles on a show that already has the only major title holder regularly appearing on television.  While they did basically the best they could getting there, the endgame of the match became less about if Seth was going to win despite his gimmick'd knee injury then how he would get the Curb Stomp done on one leg.  Which is understandable but definitely deflated every single Soul Crushing Finale Seth took, as everyone in the arena /watching at home knew he was kicking out and reacted accordingly. You can get to really really good with a story like that, but it's really hard to reach truly great and they just missed it.
Match: .8