This Thursday and next, TNA will present its two-episode Genesis special in lieu of standard episodes of Impact Wrestling. In some ways, Genesis represents a soft reset for TNA, as it is their first taping of the new year and their first go-around with the new reality of Magnus as champion.
Regrettably, TNA hasn't announced what's happening on each individual night at the show, so today we will preview all the advertised matches. Next week, we'll come back at you with an updated preview for Genesis Part Two.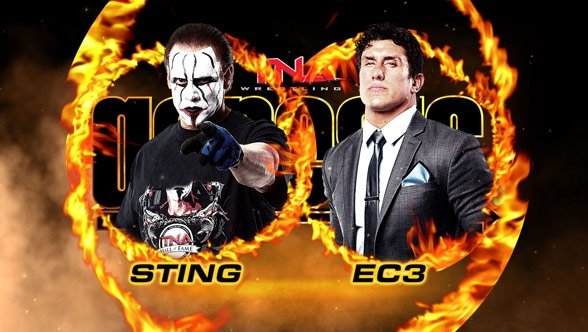 "The Icon Sting" vs. Ethan Carter III
Dave Says: Last week, I said that this match had the advantage of not needing to be very good to effectively tell the necessary story. With that said, it won't do anything to elevate ECIII's profile or keep Sting's from eroding if these two put on a stinker.
What this Should Be: A by-the-book young, cocky heel versus venerable, honest babyface match. Sting and Carter work ten honest minutes in the ring before Carter gets a clean-dirty win with his feet on the ropes.
What this Shouldn't Be: Another slow-paced Sting walking brawl that needs every bell and whistle in a John Phillip Sousa marching band to go ten minutes, ending in a ten-million-man schmoz a la Magnus vs. A.J.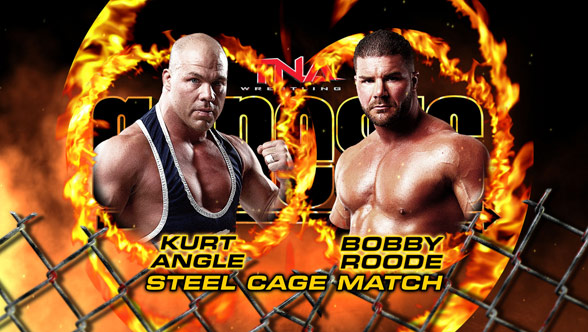 Cage Match: Kurt Angle vs. Bobby Roode
Dave Says: These two have had a solid, sustained feud that really  blossomed once TNA got past the "Kurt Angle keeps nearly killing himself" silliness. With Angle allegedly taking time off for knee surgery, this feels like a good setup for Roode to get a big win to propel him solidly into the number two heel spot behind Magnus.
What this Should Be: A long, well-worked match that uses the cage effectively, with the heel Roode content to try and escape the cage and the righteous Angle content to give Roode the beating he deserves. Roode takes a shitkicking, but rolls out of the way of Angle's now-signature moonsault off the cage and walks out the door for the heelish victory.
What this Shouldn't Be: A shortcut-fest featuring ample, early blood and the Tommy Dreamer-Raven "work a side headlock on the bleeding guy forever" spot. Kurt Angle takes ten thousand unnecessary risks and is rewarded with a win he doesn't need one bit.
Bully Ray vs. Mr. Anderson
Dave Says: This is one of those bad mid card match-ups that you know is going to eat up a big chunk of time and deliver absolutely nothing. This match is the zombie of a feud that deserved to die.
What this Should Be: I usually advocate for long, wrestling-heavy matches, especially on these pseudo-pay-per-view supershows. With that said, the best Bully Ray vs. Mr. Anderson match that can possibly occur is a short, decisive one. Anderson wins clean with the Mic Check and Ray isn't seen on TV for months.
What this Shouldn't Be: A match that occurs in 2014 — this feud is last year's (bad) news.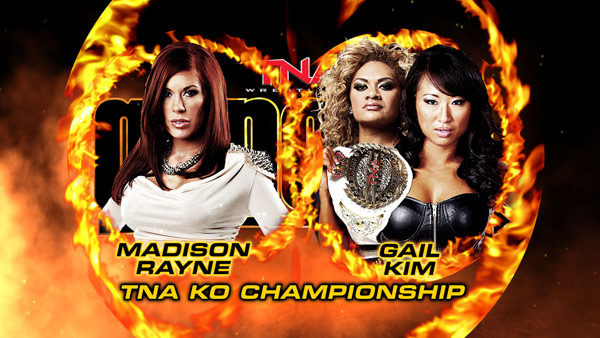 Knockouts Title: Gail Kim vs. Madison Rayne
Dave says: Madison Rayne's return has been nice because she's another actual full-time Knockout, but she's the last person to inspire the word "fresh." This match begs the question, "Can two good workers have a good, important-seeming match in the midst of a totally nothing angle?"
What this Should Be: A solid, pay per view worthy back-and-forth match between two talented workers. Rayne seems inches from a Knockouts Title victory when Kim takes a shortcut, hits her finisher, and gets the relatively-clean-for-a-heel-champion win.
What this Shouldn't Be: Five minutes of sloppy action building towards a farty crescendo in which Lei'D Tapa interferes to give Gail Kim a cheap title defense OR Five minutes of sloppy action building towards a farty crescendo in which Lei'D Tapa attempts to interfere but screws up, giving Madison Rayne a cheap title win.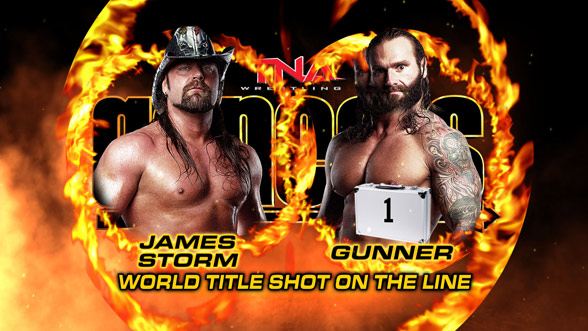 Briefcase Match: "Cowboy" James Storm vs. Gunner
Dave says: Out of all the matches on the Genesis card, this bout had the best, tightest, most logical build (check out my reviews [HERE HERE AND HERE] to see what I've been saying about it) of all. For my money, the fate of this match rests on whether Gunner truly has a "big match guy" in him.
What this Should Be: A long grudge match that features both great technical wrestling and personal-looking brawling. Gunner is elevated in the match, but Storm ultimately wins cleanly with the Last Call superkick to establish himself as a top babyface contender for heel Magnus' World Heavyweight Title.
What this Shouldn't Be: A "swervy" double-turn with Storm using the beer bottle to defeat a now-blandly-babyface Gunner.
Unadvertised, but of Note
Dixie Carter hinted strongly on Twitter yesterday that The American Wolves (Davey Richards and Eddie Edwards) would debut on tonight's Genesis special. It remains to be seen whether they'll "shoot to the top" and instantly enter into a feud against TNA World Tag Team Champions the Bromans or tune up against a jobber team like Eric Young and Joseph Park.
Several other surprise debuts may be in store this week and next, as TNA looks to find fresh, affordable talent to fill out their 2014 roster.