Bobby Lashley returning to Raw largely unhyped, despite no one having seen him in a meaningful capacity in 10 years — even I didn't see his work in TNA and I sat through Rhyno as a main eventer on that shit — is an unorthodox move given that Lashley's real cache is his name recognition. He's obviously a freakishly strong, hyper athletic super competitor with legit MMA experience, but how much cache that has in a world populated by Ronda Rousey (the most transcendently significant MMA performer of all time) and Brock Lesnar (her only real competition for the title) as well as Crossfit freaks (meant in the best way possible) like Seth Rollins? What his ceiling will be, and how quickly he'll hit it, are maybe the only interesting things to look forward to Lashley, but that's still better than most.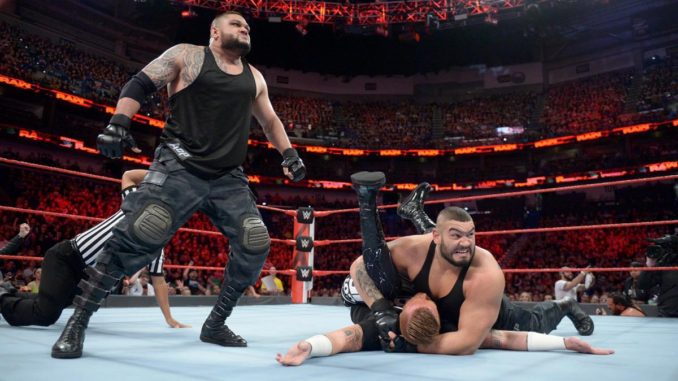 As of NXT Takeover, The Authors of Pain had just reached out past the breakers as it related to the NXT title. Sometimes, because NXT is a touring brand, they aren't pulled back into shore before ending up adrift but it appears that they were able to get Akam and Razar safely up to the main roster before the washed out all of the momentum they've built in the last few years as NXT's premier tag team.
That they chose to, immediately following their debut victory, jettison their manager — the Hall of Fame tag team manager, Paul Ellering — seems to be an attempt to preemptively announce the kind of (definitely violent, presumably more destructive) changes fans with experience watching them will see happen with the characters, while also giving them an instantly storyline to build on going forward. This is probably the best kind of debut from NXT one can ask for outside of the Paige experience of winning the title on your first night, but given the once-in-a-generation kind of moment that was, this is was as much as you could get.
The tag team turmoil continued throughout the night, as the second half of the Tag Team Eliminator Tournament finals were decided in the debut match for the W'Broken Wyatt family. As I mentioned during the JMS Renew Review of the 'Dre, this has potential to be reminiscent of the brief period wherein Roman and Bray join forces and destroyed everything in their paths. Which is WONDERFUL. But for right now, there's a lot of work Matt needs to do, to make Wyatt work entirely free of the concept of Sister Abigail so that he can actually grow as a character instead of as a mannequin.