I'm torn about this week's main event between Kevin Owens and Finn Balor. As was the case with Alexa and Natalya being placed in the matches they were based on logical storytelling and a need to withhold/not rehash certain feuds, the booking of this match in-and-of-itself is both totally serviceable and part of a meaningful process of moving away from round robin booking. But, like those matches, it was also being what ultimately made this match feel a little flat.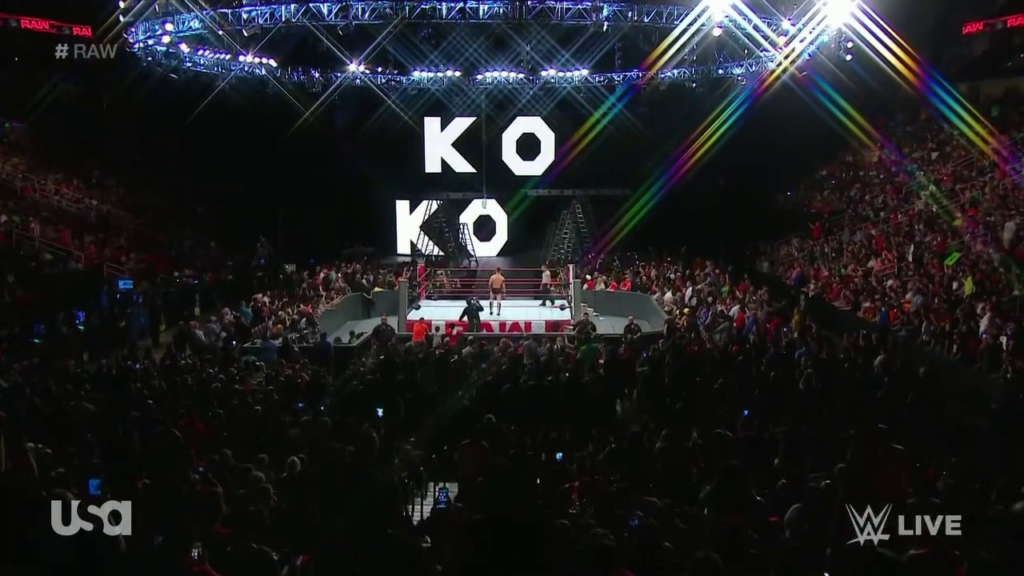 That the match was sold as a first-time ever affair (on Raw) between two performers who had feuded LITERALLY all over the world as NXT champions, including ladder matches, probably didn't help this. Instead of highlighting that, the match focuses heavily on current Kevin Owens vs. current Finn Balor existing in the moment against one another, missing a massive storytelling opportunity to establish one as a long-standing and serious threat to the other. These are just two guys in a match, essentially, fighting not for favorable position in that match as much as reminding everyone there's a match in two weeks.
HAVING SAID THAT, this match was of course very enjoyable considering the players involved, even if that ending was the exact type of shit that would make a lot more sense IF THE SHOW HADN'T OPENED UP WITH A GUY LOSING A MATCH BY CHAIR-ASSISTED DDT.  So, someone can be concussed by a foreign object brought into the ring without consequence, but kicking too much ass without a break is apparently illegal now. Who knew?
***
As for the ending of the show, I can only say this: There's "I think Jordan played in a tougher era than LeBron" kind of dumb, there's "I think Hillary was just as bad as Drumpf" levels of stupidity and then there's having this guy:
being afraid of climbing a ladder.