There's a bit of cognitive dissonance as to what the goal of Dolph Ziggler's partnership with Drew McIntyre is going forward. As I wrote this last week:
Drew is eventually going to Murder, Death, Kill Dolph. It's impossible to have a moment like this not eventually come back to haunt someone, especially when you take into account how quickly Dolph and Drew ran through the entire non-AOP tag division after Ziggler's elimination.
and they invested further in this during their match with Breezango. Ziggler nearly found himself in trouble against the most jobber of jobber teams because he needed to "show off", and it was only after Drew comes in to clean house is their victory totally assured.
… Which they get after he tags Ziggler back in for the Zig Zagmore. This choice, to make someone as seemingly obsessed with winning and proving himself as McIntyre willing to give his bumbling partner the actual victory, seems like it's either a clever storytelling device or them making it up as they go along.
The promo immediately after the match made the entire thing even more confusing. Promising to save the tag division by destroying it team-by-team is great if the plan is actually to do it, but it then makes what happened during the match seem wholly unnecessary if the goal wasn't to sow discord. Unless, of course, my swerve-addled brain has made me forget that even when a team is one half a million ants and half a collapsing star, they can still be friends no matter how many times Dolph Ziggler the collapsing star nearly costs the ants a match.
***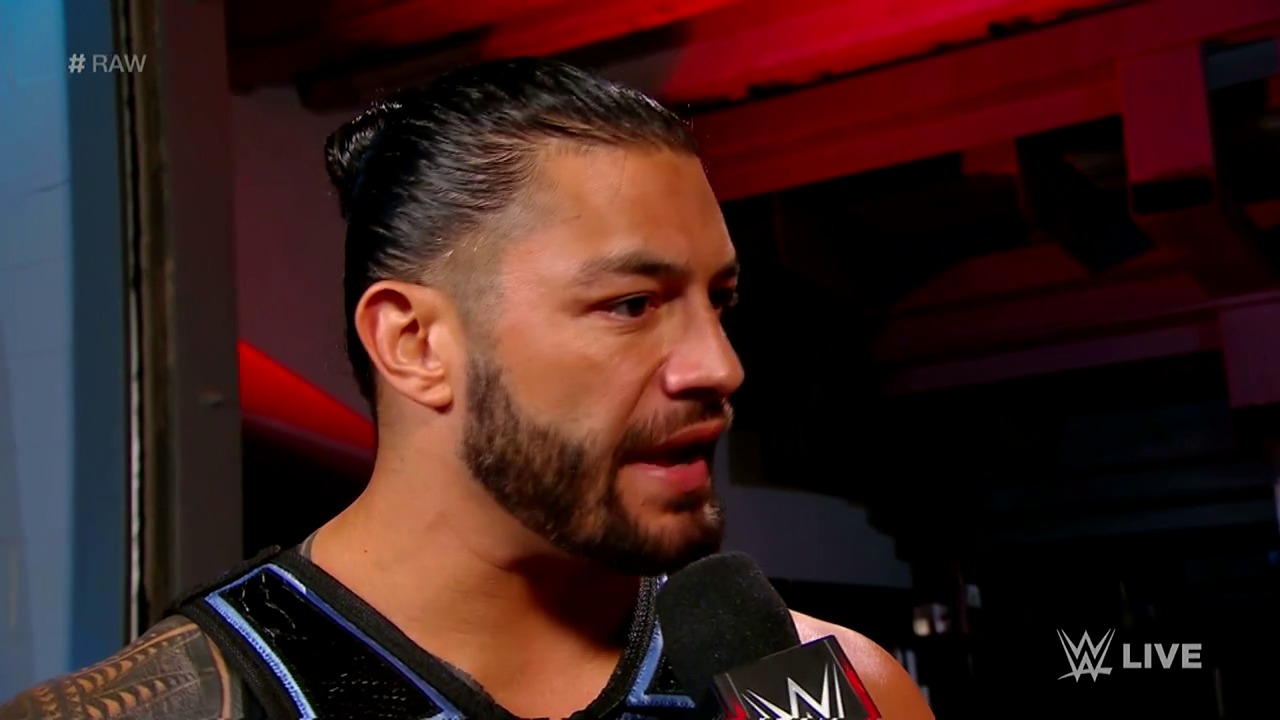 Roman Reigns' promo this week — specifically, the crowd's non-hostile reaction to it, along with most of the things he's done to Jinder Mahal since they entered each other's orbits — supports my basic hypothesis that crowds don't hate Roman Reigns as much as they like other performers more. That's not to say that he is "shoved down their throats" (which is some Gamergate-assing-ass shit,) but rather that people they prefer more are used to propel him forward. Reigns existed entirely in a vacuum populated only by loud mouth chickenshit heels, he'd be a Golden God. Instead, he's the third most beloved performer in the third most beloved stable of all time — SHAMELESS PLUG ALERT, FEEL FREE TO AVERT YOUR EYES UNTIL: You can learn more about the top two most beloved stables of all time in convenient audio form here and here, or by subscribing to How Wrestling Explains on iTunes here HERE — on a roster filled with enough "cool heels" to restart the nWo Wolfpac.
But, like a homeless man's Kevin Owens, Jinder's entire raison d'etre is to reveal how much of a babyface someone is. Unlike Owens, Jinder's a remorseless jerk with essentially no redeeming qualities. On top of that, there's very little split in the vote on Jinder, and he's almost universally disliked by the kind of people who make loud noises at shows. Even someone who enjoys his work, like myself, understand he exists to be booed and act accordingly. He's not a cool heel, he's just a heel. His unwillingness to fight combined with his need to be in control of what's happening in front of him is how he makes Roman seem somewhat likable. He's a coward focused entirely on self-aggrandizement, a far cry from KO's significantly less distasteful self-preservation instincts.
Which is how we get the crowd cheering Roman's assassination of Sunil Singh via spear for what feels like the first time since The Shield broke-up. People really want to see Jinder get his ass kicked and are far less concerned about who gets the credit for it.
***
Without presumably meaning to, WWE Creative has actually managed to build to a feud with real tension between The B Team and The Deleters of Worlds. The B-Team is just haphazard enough to be brought to the Lake of Reincarnation, but also over enough to find themselves whistling through the Land of Obsolete Men on their way to am undefeated streak and a world tag title run. Okay, I'm mostly kidding about that. But, truthfully, given the proximity of the brothers Rotunda, what will become of Bo and Bray's relationship going forward adds at least one more layer of intrigue to what should be  a pretty standard and straightforward feud.
Or, I should say based on the kind of promos/characters they are, as straightforward as tDoW should try and manage. Which is fairly high relative to actual professional wrestling, but still one or two steps towards the center when it comes to the oeuvre of either man.