Randy Orton defeats Big Show to retain the WWE Title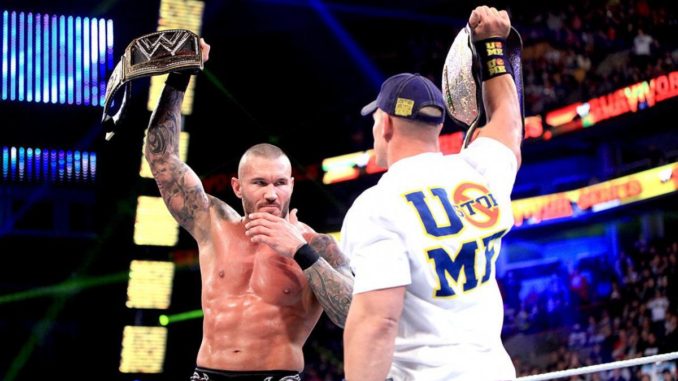 Best Case Scenario: Randy Orton pulls out all the sto(m)ps as he reverts completely back into his serial killer/Legacy period. Triple H doesn't come down to ringside, and nobody cheats.
There's definitely something to be said for what they are doing with Randy Orton right now that I actually like more than almost anything on the show right now: they are making him crazy. Some of it is subtle, like the incompetence of Brad Maddox, Vickie Guerrero and Kane getting Randy Orton into all different types of fights, and some of it is glaringly overt, like the constant challenges from H and Stephanie for Randy to pick his game up.
With the way this match was booked, and the way that Orton played it, they are really building up the
"heavy is the head that wears the crown" aspect of his title reign, which is wonderful, at least in the sense that it gives him a purpose beyond "thing the Authority uses to shank you in the prison cafeteria". It also creates tension between Triple H, Stephanie and all of the members of the administration, including the Shield. But it begs a serious question:
Why?
Why aren't they just having Randy Orton be Murder Death Killer? This isn't a rhetorical question, either. If the goal of this match/end of PPV angle with Cena was to get us to ask confused questions AND make sure we tune into Raw tonight, they did a GREAT job. But, if the goal was to create excitement beyond confused curiosity? Not so much.
Match +.6
Your Mileage May Vary on the Divas match, but for the most part, this was a very good card that did a lot to move a number of story lines/characters forward, helped establish a few performers — Big E. and the Wyatts — as formidable competitors, while planting the seeds for Roman Reigns to be made king of the world. If the main event finish didn't feel so wonky, this could have been the best PPV we reviewed, but because of what could most generously described as an "meh" finish, it's toward the back of the middle of the pack for  the full card, even if it finds itself much closer to the top of what we've reviewed when it comes to a per match basis. While the matches on an individual level were  all PPV-quality, considering the PPV ended essentially 20  minutes short makes me feel like — and I can't believe I'm saying this — having the Miz vs. Kofi on the actual card would have made me feel like I'd paid for a steal of a card, as opposed to one I just simply wasn't disappointed in.
PPV 3.5 | Match Avg. .5