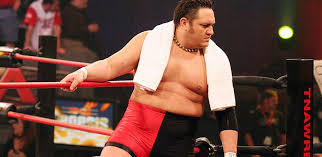 7. Samoa Joe
Why it works: We've all heard the rumors that WWE and Samoa Joe are talking.  We've all heard that Triple H is a fan of Joe's work.  But we also know that Samoa Joe is 37 years old which, in 2015, could be considered too old to start your WWE career.  Especially when you've got a very non-WWE body type, much like Samoa Joe's.
It wouldn't surprise me to see WWE go the Sara Del Rey route with Joe, taking a world-class, world-traveled wrestler and use him to groom your next generation.  A lot of guys in developmental are already familiar with Joe, and have a ton of respect for him.  Some have probably grown up watching his work in ROH and TNA.  He'd be an incredible asset.
Why it makes me angry: The idea that Joe is too old, or too fat, to become a WWE Superstar is just infuriating.