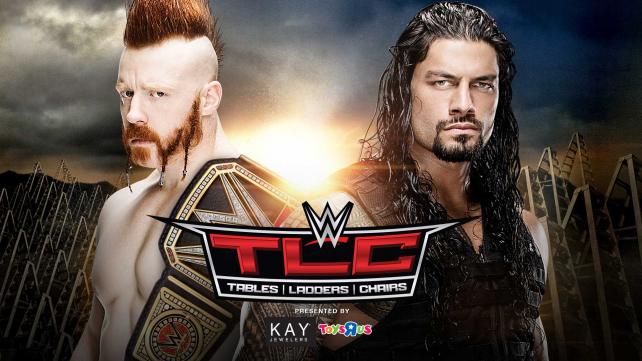 Sheamus (c) vs. Roman Reigns
WWE Championship — Tables, Ladders & Chairs Match
The crowd is chanting tater tot and the champion sounds like the world's biggest pussy. Whoever wrote this bit should be fired twice. #Raw

— Angry Andy Miller (@AndyMillerJMS) December 8, 2015
This match should be good.
The overall story arc behind this match is solid.
The writing of the segments leading into this match have made me consider taking an extended break from watching WWE programming. I'm not joking.
Raw's Main Event segment featured a WWE Champion, booked to sound like the world's biggest coward. It featured a budding badass who was made to sound like Bugs Bunny. It featured a crowd chanting "Tater Tots," which regardless of how stupid it is, WILL stick. It will be Sheamus' version of the "WHAT?!" chants… at least for a little while.
By the end of this segment, I didn't want to watch TLC. I considered giving up my WWE Network subscription, and spending my hard-earned money on New Japan World, Beyondemand, CZW or Chikaratopia instead.
This match will be good, and I know it will be good, but I don't want to see it. That's not just bad writing. It's the worst possible outcome of bad writing — taking something that should be "can't miss" and making it "can't watch."
WWE failed.
What I'm expecting: Reigns looks like a god, until he's cut off and stopped by the League of Nations. Nick marks out, and the crowd continues to tune out.