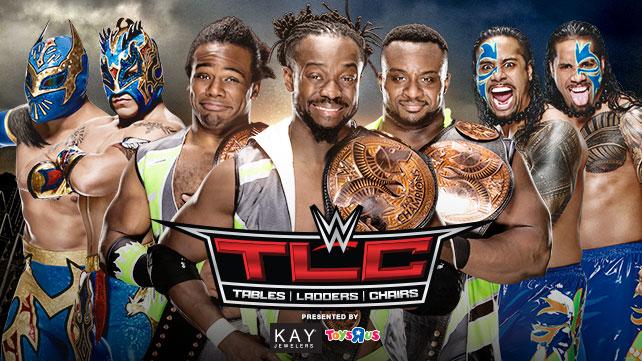 Lucha Dragons vs. The New Day (c) vs. The Usos
WWE Tag Team Championship – Ladder Match
The New Day is, far and aware, my favorite part of WWE today. When Kofi Kingston, Xavier Woods and Big E hit the ring, I put the remote down and pay attention. There are few other (main roster) acts that can make me do the same.
That said, now may be as good a time as any to pull the trigger on the Lucha Dragons. We've heard time and time again how WWE wants a Hispanic star, and see Kalisto as a guy who can fill that spot. Now's the time to give him (and Sin Cara, I guess) the ball, and see what happens. Call it a trial run for an eventual singles push.
But…I have two concerns. First off, I'm worried about what happens to The New Day if they fall from the tag title picture, and creative is tasked with finding them something else to do. That hasn't worked out well for the Prime Time Players, who were on top of the world this summer and main evented Raw recently… only to seemingly disappear altogether. And don't get me started on whatever is happening between Titus and Statdust, because I hate it.
My real concern is that while The Lucha Dragons could be great babyface champions, there are no credible heel teams in the tag picture to chase them, beyond the New Day. That could get stale, quickly. But that problem could also be easily solved with a heel turn by either the Prime Time Players, The Dudleys or the Usos, a return to the tag ranks for The Wyatt Family, the return of a team like Damien Sandow and Curtis Axel…. bottom line? There are no heel challengers, but there are ways to remedy that.
Oh, and the Usos are in this match, too. They shouldn't win. They should continue to flirt with the main event scene as Roman Reigns' backup, and stay out of the tag title picture until they're needed there.
I'll be angry if: The Usos win. The New Day disappear after losing the titles.
I'll keep my cool if: The Lucha Dragons win, or the New Day utilize that three-man advantage to retain.
I'm expecting…: The New Day escape with the titles, but barely.
If I booked it: The Lucha Dragons win the titles, leading to some bitterly-positive promos from the New Day, who lost the belts without being pinned.