Every year, WWE tries to put forth the best Wrestlemania card possible.  That includes months (and sometimes, a full year) of planning and lots of negotiating with top stars.  It doesn't always work out.
Recently, WWE.com published a list of Mania matches that almost happened… but didn't.  And as you might expect, that list has me just a little bit angry… for a few reasons.  In some cases, I'm mad because the matches look good on paper, and we didn't get them.  In others, I'm more upset about what we got instead.  And sometimes, it's just offensive the matches were ever on the table in the first place.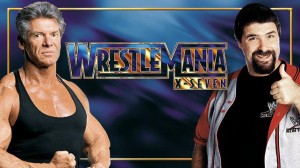 VINCE MCMAHON VS MICK FOLEY
WRESTLEMANIA X-SEVEN
This is one of those matches where I'm annoyed it was ever proposed. At this point in his career, Foley was washed up, beaten up, and ready to go home…whether he was ready to accept it or not.  No matter how much you like Foley (and as a Long Islander, I LOVE Foley) , this match would have SUCKED.  This has "Vince vs Bret" written all over it, just without the disaster of the entire Hart family coming to ringside.
Foley is at his best when he's getting his ass kicked.  In the ring, so is Vince.  This would be two human punching bags duking it out.  Adding in that Vince was (and still is) in better shape than Mick, and you've got a match that just doesn't add up.
Instead, we got Vince vs. Shane, with Foley wearing the zebra stripes.  Not really memorable for me, but it beats Foley embarrassing himself.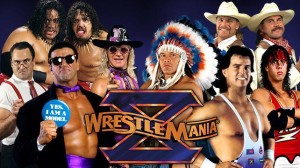 I.R.S., JEFF JARRETT, THE HEADSHRINKERS & RICK MARTEL VS. THE SMOKING GUNNS, BOB HOLLY, 1-2-3 KID, & TATANKA
WRESTLEMANIA X
This match was killed because the Razor Ramon-Shawn Michaels ladder match for the Intercontinental Title went way over. Thank god.  Filler matches like this really don't accomplish anything, or get anyone over.
If anything, I would have preferred the Headshrinkers and the Gunns be added to the tag title match.  Even that is a stretch.  All ten of these guys were expendable on this show,  and it shows.  I'm not so mad about this one not taking place… mostly indifferent.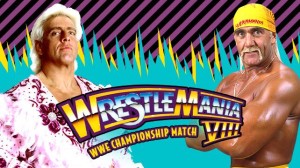 RIC FLAIR VS. HULK HOGAN
WRESTLEMANIA VIII
God damn it.  This could and should have been one of the biggest matches in Wrestlemania history.  Maybe wrestling history.  The biggest star in the history of professional wrestling, versus the best wrestler to ever lace 'em up.
Of course we didn't get it.
Instead, we got Flair vs. Savage (hey, I can handle that) and Hogan vs. Sid.  A match that ended by DQ.  At Wrestlemania.  When we could have had Hogan versus Flair.  The more I think about it, the more offended I get.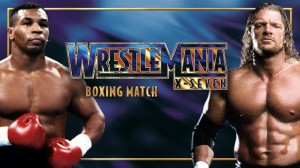 MIKE TYSON VS. TRIPLE H
WRESTLEMANIA X-SEVEN
Trips says there were a bunch of ideas floated about for this match, and he's not really sure where it was headed.  I bet.
He says there were plans to go six rounds, with both Earl Hebner and famous boxing referee Mills Lane in the ring.  Mmkay.
Apparently, money kept this one from coming together…and that's probably a good thing.  Instead, Triple H took on the Undertaker, in what Hunter calls one of his all-time favorite matches.  We all won here.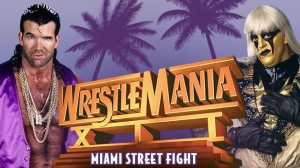 RAZOR RAMON VS. GOLDUST
WRESTLEMANIA XII
This was supposed to be a Miami street fight, capitalizing on Razor's Cuban background.  This probably would have been pretty good, too.  These guys feuded for a while with the Intercontinental title at stake.  The match had a ton of back story.  It worked.
But it didn't happen, because Razor left for greener pastures in Atlanta.  That left Goldust to take on Roddy Piper in a complete dumpster fire of a Hollywood Backlot Brawl.  Thanks a lot, Scott Hall.  Thanks a lot.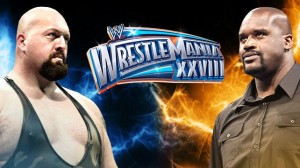 BIG SHOW VS. SHAQ
WRESTLEMANIA XXVII
This could have been interesting, for a couple of reasons.  These guys are legitimately two of the largest athletes in the world.  Both guys are super charismatic, and Shaq just so happens to love professional wrestling.  All the pieces were there, with Shaq even promoting the match.
But it wouldn't happen.  While part of me wonders how it would have gone, part of me is glad it didn't go down.
Big Show suffered some big losses in his career, to people the crowd just didn't care about.  (Akebono, anyone?)   He didn't need to lose ANOTHER big match to ANOTHER non-wrestler…even if this one is a legitimate star.
Show would go on to defeat Cody Rhodes for the Intercontinental title, in what was a pretty fun little feud.  While it wasn't a Wrestlemania "main event" – it was still pretty good, and much better than what could have been.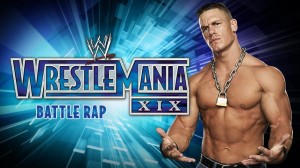 JOHN CENA VS JAY-Z & FABULOUS, BATTLE RAP
WRESTLEMANIA XIX
Part of Cena's magic was that he was one-of-a-kind in the whole "wrestling rapper who was actually kinda good" gimmick.  Bringing in two legitimate rappers, who could have easily made Cena look foolish, could have killed Cena's gimmick, push and popularity.  Imagine THAT?
Cena would sit this show out, instead.  He was never heard from again.  He's currently managing a Jamba Juice in Los Angeles.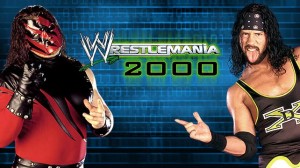 KANE VS X-PAC
WRESTLEMANIA 2000
These guys had history, so this should have been good.  But Kane was hurt heading into this one, and it turned into a tag match, with Rikishi and Kane taking on X-Pac and Road Dogg.  It also lasted 4 minutes.  Four minutes.  I spent longer trying to come up with more to say about this match.  Everyone failed.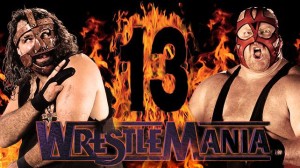 MANKIND VS. VADER
WRESTLEMANIA 13
These two guys had WARS around the world with WCW.  That includes the match where Mick lost his right ear.  With a couple of classic Foley promos, this match could have been enough to sell the show.
So of course it didn't happen.
Foley told WWE.com that (he thinks) folks were afraid they'd overshadow the rest of the card.  Maybe.  Or maybe WWE just didn't want to sell the show based on events that happened in WCW.  We'll never really know.
Instead, Mankind and Vader teamed up, to take on Owen Hart and the British Bulldog, in a tag team title match.  That match would go to a double countout, which is among the worst ways to end a match at Wrestlemania.
WWE never managed to pull the trigger on Foley vs. Vader, and you can bet that makes me pretty angry.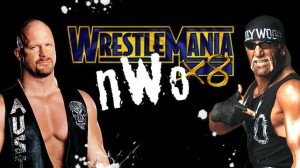 "STONE COLD" STEVE AUSTIN VS. HOLLYWOOD HULK HOGAN
WRESTLEMANIA X8
Austin tells Jim Ross that Hogan wanted the match, but the Rattlesnake wasn't having it.  So Hogan ended up going one on one with The Rock, in a pretty memorable match.  Austin would go on to work with Scott Hall, in a match that wasn't quite as memorable.
Austin has admitted that he wasn't in the best place mentally at that point in his career.  We all know Scott wasn't, either.  It'd be interesting to go back and see what could have been.  We'll never know.
Austin-Hogan could have been really interesting, but in the end, I'm not TOO upset that it didn't happen.  The Rock-Hogan staredown is still one of the most memorable Wrestlemania moments, ever.