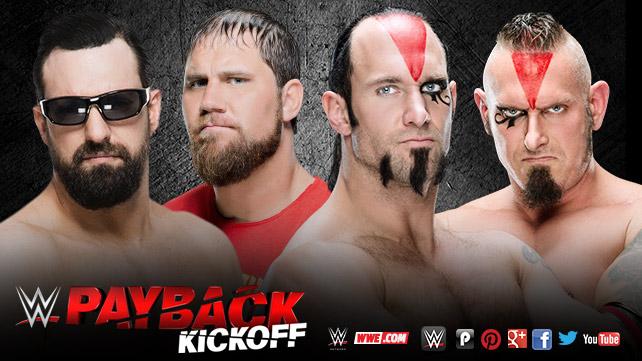 Kickoff Match
Macho Mandow & Alexmania vs. The Ascension
If there's anything that annoys me in wrestling, it's when the announcers tell you that what you're watching is stupid. It's as though you're supposed to respond to JBL and say "you know what, John? You're 100% right!" Grab the remote, switch over to whatever's on ESPN, and park it there for the night.
Watching Raw this Monday, all i could think of was "maybe this is where I hit the 'stop' button on my DVR remote." I didn't, though, and that makes me happy.
The entire segment was tongue-in-cheek, with the Dollar Store Warriors talking about Sandow and Axel using old personalities to build their own careers. The following standoff was short, but effective. The Mega Powers handshake reenactment that followed, cementing a Curtis Axel babyface turn, was great, too.
This match is everything you want from a kickoff show match… although the commentary team may refuse to let you know that.
I'll be angry if: JBL spends the entirety of this match talking about how stupid everyone involved may or may not be. If you tell us not to care, we won't. Case in point: Fandango. Adam Rose. Zack Ryder. Heath Slater… you get the idea, right?
I'll keep my cool if: These guys go out and have a Saturday Night's Main Event-style main event. The Ascension play the monster heels, and the Meta Powers (like that?) come back and get the big babyface win. The crowd will love it.
I'm expecting…: To be mildly pleased, when WWE delivers the match I want, while simultaneously burying the absolute hell out of it on commentary.