2/3 Falls Match – WWE Tag Team Championship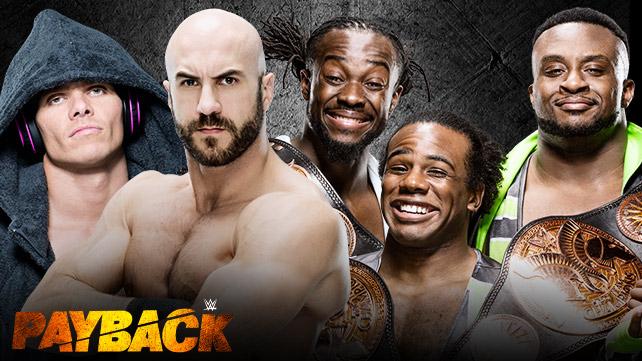 Tyson Kidd & Cesaro vs. The New Day (c)
Best Case Scenario: Woods challenges Natalya to a "Chicken fight", followed by Kidd and Natalya carrying Cesaro on their shoulders into battle against a hoisted Big E. with Woods and Kofi providing support, thereby creating the first 2-out-of-3 falls match fought by mechs in WWE history.
Worst Case Scenario: The somehow revert The New Day back to "performers who haven't quite figured out how to work the crowd, incapable of provoking a response that isn't either 'meh' or 'that shit is racist'" while Natalya simultaneously turns back into her Farting Matilda character from back when she was fake-dating the Great Khali (as opposed to fake-marrying the Great Tyson Kidd).
What Nick Wants to Happen: A match that last more than ten minutes and features at least one prolonged exchange from the apples of my eye: Cesaro and Big E.
What Will Happen: A match that will have people talking, either because it didn't live up to expectations or super super did.