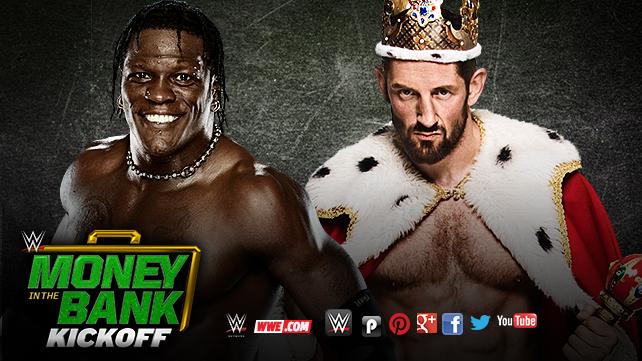 Kickoff Show
R-Truth vs. King Barrett
The supposed king takes on the man who, in Santino's absence, has become the undisputed jester of WWE. This should be fine enough if they focus on the in-ring action, and not on Truth being a complete goof… but if you're expecting that, you're crazier than Mr. Killings.
I'll be angry if: Barrett leaves this match looking like a joke, since that's his opponent's job. Also, if the announcers spend more time talking about Truth's new schtick, rather than Barrett's dominance.
I'll keep my cool if: Truth's confusion is kept
I'm expecting…: Truth to, somehow, confuse his way to victory, further diminishing the value of the King of the Ring crown, and Wade Barrett as a whole.
If I booked it: Barrett would absolutely annihilate R-Truth, hitting every one of his moves but refusing to go for a pin until he hits a Bull Hammer. Barrett begins a long, Rusev-esque streak of crushing jobbers, then lower-card guys, until he's re-established as a dominant force and main event player. A strong diva (Alicia Fox?) joins Barrett as his queen, cutting Lana-esque promos about the king's dominance. It's so simple, even Jim Ross would love it.
As for R-Truth, he sticks around for opening match duty, in a role where he's used almost exclusively to build younger talent, rather than take the spotlight for himself.