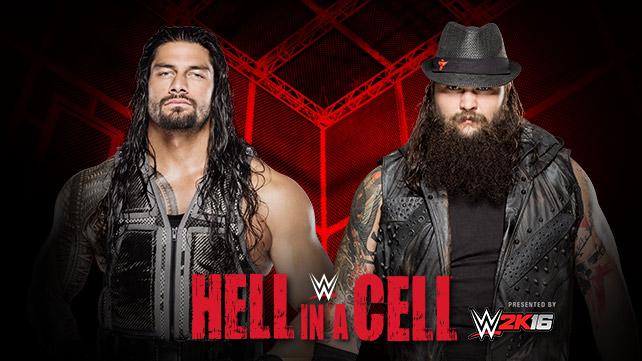 Roman Reigns vs. Bray Wyatt
Hell in a Cell Match
There's not much on this show that I'm looking forward to, but I won't lie. I'm excited for this match. Both of these guys bring it in big matches. Plus, let's face it — Bray Wyatt's character is built for barbaric gimmick matches like the Cell.
Roman Reigns has done a great job of rebuilding his character, and his connection with the crowd, since WrestleMania.
Two things need to happen to keep this strong run alive. He needs to lose, and he needs to pull off some cool, memorable shit.
I'll be angry if: Roman wins clean. I'll be less angry if he wins in a big cluster-you-know-what, but still angry.
I'll keep my cool if: Wyatt re-introduces Roman to Sister Abigail.
I'm expecting…: Interference from the entire Wyatt Family, and perhaps Dean Ambrose.
If I booked it: Roman Reigns calls in some reinforcements for a post-match 4-on-4 beatdown, building to the Wyatt Family vs. Not-The-Shield…But-Totally-The-Shield at Survivor Series. What are the Prime Time Players up to, again?
Or, better yet… is Other-Brother Uso healthy yet?