Ladies and gentlemen, it's time for Wrestlemania.  Before we get into my preview, I have to say, I'm a bit annoyed about the way WWE is using the pre-show.  I'm fine with the tag title match on the kick-off, but really, it should be on the main show.
If we're going to include matches on the kickoff, I'd prefer WWE brand it as the official NXT Wrestlemania Kickoff, or something like it.  Give us an NXT title match, an NXT Womens title match, and maybe some six-man schmozz match, just to put some gimmicks on display.  Just like that, you've branded the NXT stars as important, as well as the pre-show itself.
Anyway, let's get to the action, and the anger.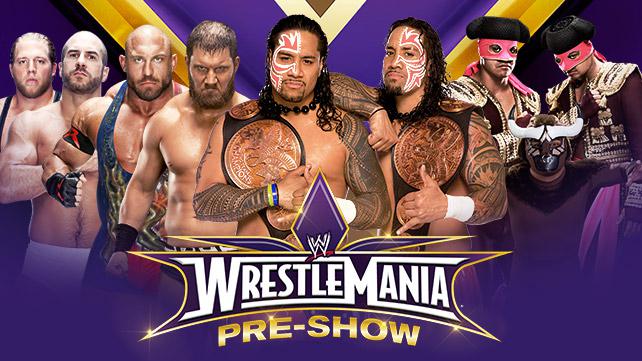 The Usos vs. Los Matadores vs. Ryback & Curtis Axel vs. The Real Americans
I'm more than a little miffed that this one is on the pre-show, and not the main card.  All eight guys here are talented (yes, even Ryback), especially in their current roles.  They all know how to work within their gimmicks, which is crucial to success in the big leagues.  It's also crucial in helping the crowd enjoy the show.

I'LL BE ANGRY IF: Los Matadores win.  They won't, but the idea that it's possible is still terrifying. These guys are talented as hell, but they're not over.  Their little person sidekick is, but they most certainly are not.  Ole!

I'LL KEEP MY COOL IF: The Usos retain, or the Real Americans take the gold. Both teams are just great.  The Usos deserve a longer reign, and a win would set up matches against all the heel teams, including The Real Americans, RybAxel, The Wyatts… A Real Americans win would set up a feud with the Shield.  Both are good options.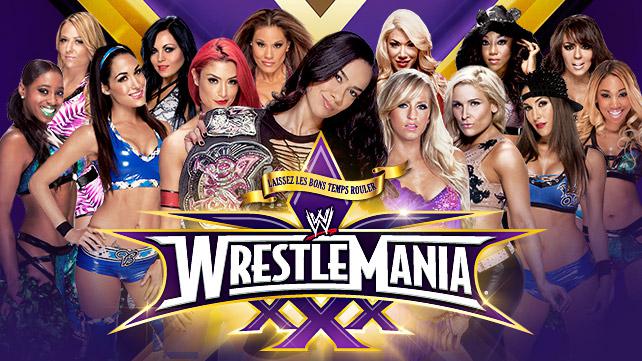 VICKIE GUERRERO DIVAS CHAMPIONSHIP INVITATIONAL
AJ Lee vs. Nikki Bella vs. Brie Bella vs. Natalya vs. Naomi vs. Cameron vs. Tamina Snuka vs. Alicia Fox vs. Aksana vs. Summer Rae vs. Emma vs. Rosa Mendes vs. Layla
So this match is on the card for two reasons.  The kayfabe reason?  Because Vickie Guerrero remembered that she hates AJ Lee.  The real reason? To get 14 divas onto the show.  The odds of this match being watchable?  Not good.  The odds of it being good? Even worse.

I'LL BE ANGRY IF Tamina, Alicia, Aksana, Rosa, Cameron or Layla win.  Also, if this match focuses more on OMG DIVAS than the half-dozen or so REALLY talented wrestlers in this match.

I'LL KEEP MY COOL IF someone with talent leaves Wrestlemania with the Divas championship, whether it's AJ Lee, or someone else.  Also, if the bulk of the match goes to the women with talent, and the Rosa Mendes group is pretty much ignored.  Also, if the focus is on the action, and not Vickie Guerrero at ringside.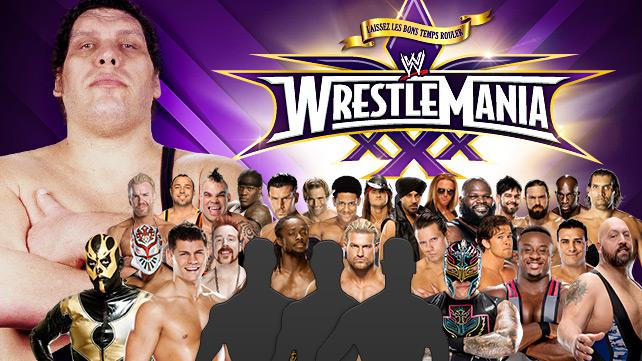 ANDRE THE GIANT MEMORIAL BATTLE ROYAL
Speaking of matches designed to get everyone on the card…it's the "it matters because we say it's for Andre" match.  You can tell who's over, and who's not, based on the graphic.  The only person emphasized at all if the guy who's been dead 21 years.

I'LL BE ANGRY IF: this match is treated like a giant throwaway.  This match is an opportunity to put someone over BIG, with a King of the Ring-esque bragging rights title.  It'd be a real waste to throw it on some former WWE Champion, who really doesn't need it.  If Sheamus wins, I swear I'll vomit.

I'LL KEEP MY COOL IF: WWE uses this match the way they should – to build up someone who needs it.  There are some really obvious favorites in this one (Big Show, Mark Henry, Sheamus, Great Khali, Alberto Del Rio).  But for my money, this is the perfect way to debut a top star from NXT, like Alexander Rusev, Bo Dallas, Sami Zayn, or even a Colin Cassidy.  I won't hold my breath.
The Shield vs. The New Age Outlaws & Kane
Is it weird to anyone else that Billy Gunn and Road Dogg are both OUTLAWS and working for THE AUTHORITY?  Just saying.
That said, I'm going to bet that Billy Gunn does most of the selling for the heels, while Kane runs wild on Seth Rollins and Dean Ambrose.  Roman Reigns kills everyone.  Fans go wild.

I'LL BE ANGRY IF: The heels win.  If the heels get too much offense.  It's the Authority's job to put over the young guys here.  Nothing else.  If the Shield doesn't leave New Orleans looking like a bunch of serial killers, it better be because they split up.

I'LL KEEP MY COOL IF: The Shield kill the Authority's b-team with all three of their individual finishers, and a triple powerbomb.  The Shield win clean, and maybe demand a tag title shot afterwards.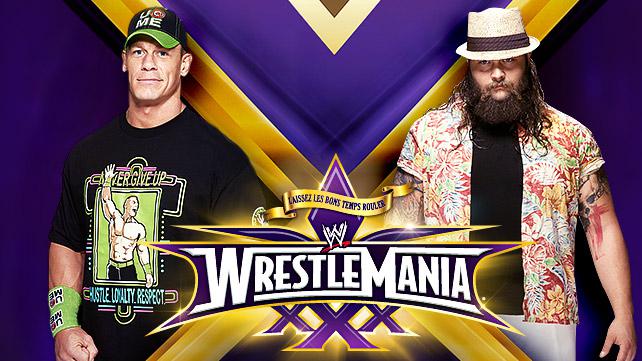 John Cena vs. Bray Wyatt
This is my non-Daniel Bryan main event of the night.  John Cena delivers on the big stage.  Bray Wyatt has been unstoppable since he debuted.  He's lived up to his main event hype.  Now he's going one-on-one with the biggest name in this generation of professional wrestling, on the biggest show of the year.

I'LL BE ANGRY IF: Bray or his look weak or stupid during or after the match.  It's okay if Cena drops the "I'm afraid of them" gimmick, but it won't be okay if he treats them like total jabronies.

I'LL KEEP MY COOL IF: this is a good, competitive brawl, where Wyatt looks like a credible main event talent.  I'd prefer a Wyatt win, but either result is fine if it's done right.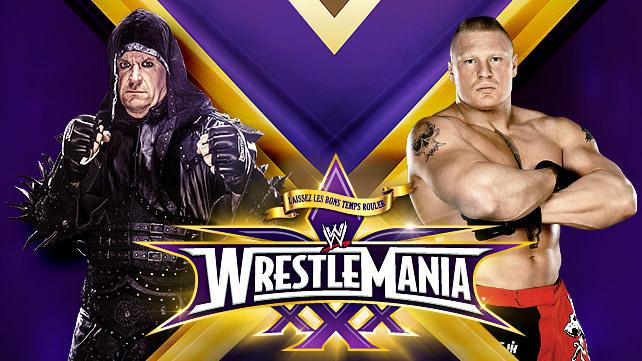 Undertaker vs. Brock Lesnar
I can't believe how unexcited I am for this one.  I love the dead man.  I love Lesnar.  But this year, the magic just isn't there.  Maybe it's because we KNOW the guy who beats the streak, if anyone ever does it, won't be the guy who works a dozen nights a year.

I'LL BE ANGRY IF: this match has a stupid finish, or if Brock wins.

I'LL KEEP MY COOL IF: Brock kills Taker after the match, getting his heat back, and keeping him strong for whoever's next on his hit list.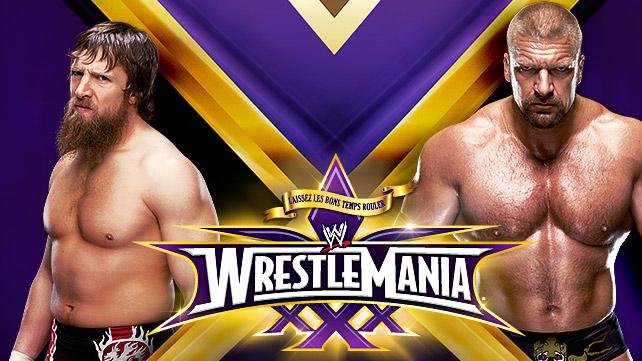 Daniel Bryan vs. Triple H
Winner of this match works his way into the WWE World Heavyweight Championship main event.  There is only one way this match works.  Daniel Bryan gets ABSOLUTELY DESTROYED by Triple H, goes for some hope spots, gets cut off, gets some hope spots, gets cut off, and wins CLEAN.  Daniel Bryan advances, hurt, but victorious.  Period.  Anything else shows that WWE and Triple H have no idea what's going on.  It's the only way.  Anything else is wrong.  Anything else is, to borrow a phrase, bad for business.  If you disagree with me, you're wrong.
Don't be shocked if they go to some sort of bullshit finish, and the main event turns into a 4-way.

I'LL BE ANGRY IF: Triple H wins.

I'll KEEP MY COOL IF: Daniel Bryan wins.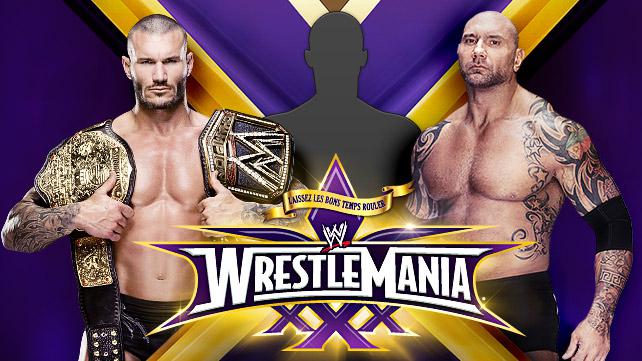 Randy Orton vs. Batista vs. Daniel Bryan or Triple H
There's a lot to this match, even if it doesn't really feel like it. Orton and Bryan have been feuding for the better part of the last year, going back to Bryan being the weak link in Team Hell No.  Batista, Orton and Triple H have a decade of history together.  Bryan has been overshadowed by Batista.  And Triple H and Daniel Bryan have been absolute MONEY in their ongoing feud.  Any combination here should make for a really great match, but Daniel Bryan's presence could make for a really great crowd.

I'LL BE ANGRY IF: Daniel Bryan loses, clean or by screwjob.

I'LL KEEP MY COOL IF: Daniel Bryan wins.  He needs to overcome Batista, Orton and Triple H in this match.  Maybe Kane and the Outlaws, too.  But he needs to do it, and stand tall in the end.
This show needs to end with Daniel Bryan holding the WWE World Heavyweight Championship, with 80-thousand people screaming YES!  It's the obvious end, but it's the right one, too.