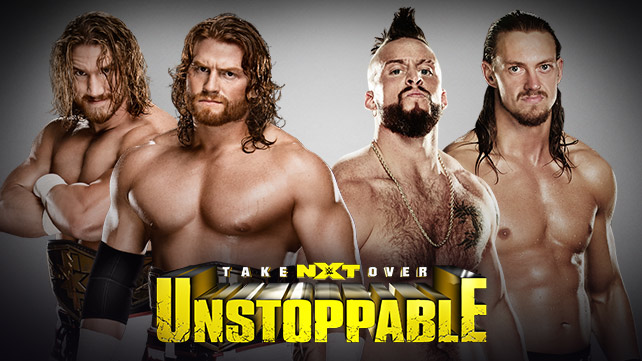 NXT Tag Team Championship
Blake & Murphy (c) vs. Enzo Amore & Big Cass
I'm not gonna lie. I'm all-in when it comes to Cass and Enzo. They're a ton of fun to watch. They have it — and YOU CAN'T TEACH THAT.
Sorry.
In my mind, the only reason NOT to give Cass and Enzo the tag titles would be if they were headed to the main roster. And make no mistake about it, now is the ABSOLUTE WORST TIME POSSIBLE for them to make that move. The tag team scene is absolutely swamped. There are six teams competing next Sunday night for the WWE Tag Titles, and that doesn't even include the reunited Harper and Rowan, the Meta Powers, or The Usos.
If they get called up now, they're going to get lost in the shuffle, and they're going to fail.
So what's the right move? The right move is to put the NXT Tag Team titles on Enzo and Big Cass. Blake and Murphy can challenge them again at the next Takeover show. They can trade the belts back and forth, if necessary. Either way, it's time for the realest guys in the room to reach a career milestone, and this feud needs to continue.
I'll be angry if: The champs retain, and we start seeing debut vignettes on Raw for Cass and Enzo.
I'll keep my cool if: The realest guys in the room bring home the gold.
I'm expecting…: A tag title change, and a big celebration…unless Carmella turns heel, and screws her boys over. Ah crap.