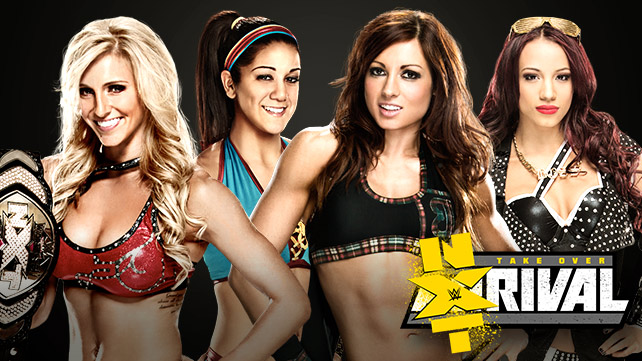 NXT Women's Championship
Charlotte (c) vs. Bayley vs. Becky Lynch vs. Sasha Banks
Smart money says Charlotte is heading to the main roster sooner than later.  My bet would be right after Wrestlemania.  With that in mind, it's probably time to take the title off of her.  The question is: does Bayley finally win the title due to a miscommunication between Becky and Sasha, or does Becky go out of her way to make sure The Boss leaves with the belt? If I had the book, I'd give Bayley the win here to pay off the chase, and have her lose it in the next few weeks to Sasha, then go back on the hunt.  With an underdog babyface like Bayley, the money is in the chase… you just have to pay it off every once in a while.
I'll be angry if: WWE fails to use this opportunity to make a big deal out of one of its young stars.  There are some great workers in this match who don't have the added benefit of the last name "Flair," who would strongly benefit from a win on the big stage, in front of a bigger-than-usual crowd, since the Network is free for February.
I'll keep my cool if: A title change in any direction is treated as a huge deal.  And if there is no title change, a main roster threat (Natalya, Emma, Alicia, etc) shows up to make a challenge.
I'm expecting: Charlotte wins.  Not because of a Cena-esque "LOLCharlottewins" trope, but because more casual fans will be tuning in thanks to the free month, and WWE will want to take advantage of the Flair name…unlike that time when, you know, Ric Flair's daughter made her Raw debut.