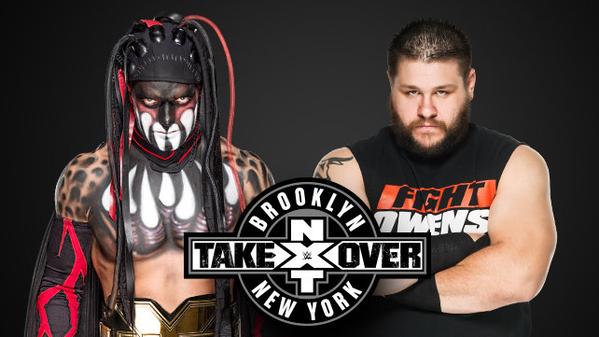 Ladder Match – NXT Championship
Finn Balor (c) vs. Kevin Owens
Balor vs. Owens at the Japan show was one of my most highly anticipated matches of 2015. I thought it could have been executed better, but it was still a solid match.
Tonight, Owens and Balor have a chance to have a better match, in front of a much bigger live audience, and far more people watching at home.
I expect them to deliver. But, at the same time, I worry Owens could (and likely should) hold back just a little bit tonight, so he's in top shape to battle Cesaro tomorrow at Summerslam.
I'll be angry if: These guys get short on time, and overdo it with crazy, rushed ladder bumps.
I'll keep my cool if: They get time to tell their story, and make a small handful of ladder bumps really count. Bonus points if Owens cuts a promo.
I'm expecting…:  Balor retains. Kevin Owens hits the main roster full-time. Hopefully, We get some sort of hint as to who will  challenge Balor next.
If I booked it: Coup de Grace off the ladder. Balor wins. Period.