The final match of the night was, in your correspondent's opinion, the best on the show going away. Each member on both sides of the ledger brought something unique to the table and if anyone was on the fence about Constable Corbin's new look, this match dispelled any serious concerns. Although the level to which he sweat through his shirt was almost concerning from a medical standpoint, there's a crispness to his profile that elevates everything he does in the ring. His outfit highlights his size much better than his lazy biker aesthetic ever did.  Everyone looks as a big steaming pile of hot mess that's thirty pounds overweight but still somehow too small for their clothes when they dress like they're in a a motorcycle gang and Baron was no different.
But it wasn't just his snazzy new dress pants that made this Corbin's coming out party as a main event star on Raw. It wasn't even this, though holy shit was it rad AF:
Re-elect Constable @BaronCorbinWWE! pic.twitter.com/DdZQsKNUzb

— TDE Wrestling (@totaldivaseps) June 19, 2018
It was that, for the first time since Brock and Roman moved away from him that someone felt like they had a serious chance against Braun when he really gets rolling. You'd be hardpressed to find someone, myself included, who thinks that Constable Corbin could beat Strowman in a straight-up fight, at this point just being able to stay in the same ring with him is a remarkable achievement.
And once ended up Braun like this "thanks" to Kevin Owens ('s body standing in front of the timekeeper's area):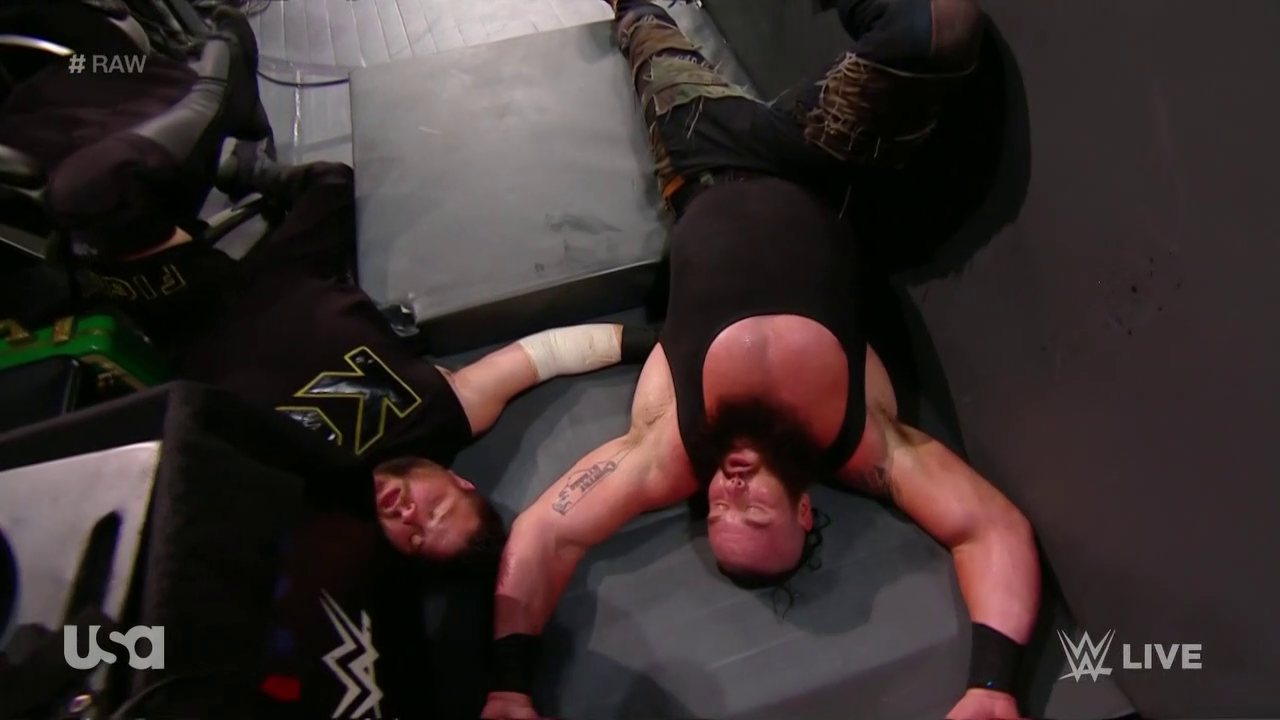 it was only a matter of time before Baron was able to catch Finn and hit him with what's slowly but surely becoming one of the best finishers on the show and one it'll be interesting to see if he can get on bigger and bigger performers.
I'm not sure what the future holds for Baron, but with a big win on Raw as well as a future feud with Finn Balor, for the first time since he came up to the main roster it feels like he's comfortable with where he is just as much as where he is going. If the point is to get butts in seats, I think we'd all sit down to watch Baron work with anyone in the match, but in particular Braun.
And that's a hard-fought victory for everyone, especially Corbin.